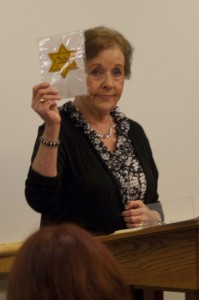 Miriam Blumenthal Lazan recalled a wagon of firewood at the concentration camp she was staying at when she was 10. It was really a pile of dead, naked bodies. Lanzan spoke about her experiences in a concentration camp to 50 students and faculty members Tuesday night in the Oswego State Campus Center. She shared her experiences to help "guard this from ever happening again."
"Oswego Chabad Club feels as if we should take advantage of the opportunity to learn directly from survivors," Oswego Chabad Club president Isaac Shapiro said. "Because we will be the ones to teach these lessons and tell these stories to our children one day."
Lazan was born in Bremen, Germany and was only four years old when she, her older brother and parents were sent to a detention camp in Westerbork, Holland. In 1942, they each got to pack one knapsack of their belongings and load into a cattle car that brought them to the concentration camp Bergen Belsen, in Germany.
"I distinctly remember it being a bitterly cold, rainy night when my family was greeted by vicious guards at the camp," Lazan said.
In the camp, men and women were kept in separate quarters, dividing Lazan's family. Six hundred people were crammed into barracks meant for 100. They had triple bunk beds and two people shared each bed. Lazan was able to share a bunk with her mother, which was very rare. The bathrooms consisted of wooden benches with holes cut in them. "There was no privacy," Lazan said. There was no nature, grass, flowers, or trees around.
When they would take their monthly shower they had to strip down in front of the guards and share faucets. They were never sure whether water or lethal gas would come out.
"Our diet included a slice of bread, watery soup and a pad of butter," Lazan said. For a birthday present people would save bread from a week before and give it to them. Since the conditions of the camp were so incredibly unsanitary, lice spread throughout the camp.
"I made up a game where I had to find four perfect pebbles in similar shape, color, size, and texture," Lazan said. She said these pebbles "represented each member of my family." If she found four perfect pebbles, it meant that each member of her family would make it through the camp.
In April 1945, Lazan and her family were four out of 2,500 members of their camp to be sent to extermination camps in Eastern Europe. They were crammed into trains, where the trip would take two weeks due to the Nazis trying to avoid the Allies' air attacks. The trip was expected to take 10 hours. The Nazi's eventually surrendered and the Russians liberated them.
When they were sent to get checked out, Lazan was 10 years old at the time weighed 35 pounds, and her mother weighed only 60 pounds. They could not hold down regular food and had to shave their heads rid themselves of lice. While all four members of Lazan's family made it out of the camp, six weeks later her father passed away from typhus.
"We had to learn to live all over again," Lazan said. They eventually came to the United States in 1948 and settled in Peoria, Ill. When she was 13 she was placed in a fourth grade class with nine- year- olds. Through hard work and determination she took extra classes and graduated from high school when she was 18, ranking eighth in a class of 267. Soon after, she married her high school sweetheart, Nathaniel. They had three kids and 10 grandchildren, and are about to celebrate their 59th wedding anniversary. Her mother just celebrated her 103rd birthday this past February.
Lazan asked the audience to share her story and to treat people as equals.
"We don't truly understand" junior Melissa Krug said. "It's a great story."
"I truly admire Miriam for her strength and courage," sophomore Laura Kahn said. "Her story is one I will share with my children in the future."
Although Lanzan was discriminated against and faced many hardships, she believes everyone should treat each other with respect.
"Let us build bridges and reach out to one another," Lazan said.