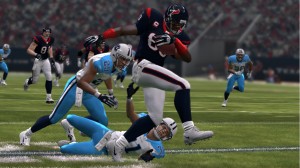 Football and video game fans know what the month of August means: a new installment of EA Sports' Madden franchise. It's no secret, even to non-sport fans, that the NFL has been through tough times since the end of the last season. Fortunately, the lockout over the Summer that threatened a new season is now over. Lockout or no lockout, though, Madden's publishers intended to release the game. Every year Madden fans rush to stores to buy it and it's back again.
Like every annual sports game, Madden 12 promises new features. They deliver in some areas, but like in previous versions, this year's Madden leaves much to be desired. The game looks great with the added new pre-game presentations. Fancy fireworks, cheerleaders, and celebrations add to the visual flair and pushes the game to look more like the real thing. The question is, can this pre-game fluff stay fresh and keep it exciting? After you play many games, the player will notice the same routines and visuals repeating. Sure, it's fun to look at, but after a while you'll want to skip the cut scenes and get straight into the game. Once you do, you'll encounter some other additions such as new animations that aim to make the game flow and also reflect what you see in a real game. EA has also implemented a new and improved collision system that aims for precision-point tackling. This means that the tackle animation will vary and change depending on how the ball handler positions and maneuvers himself and the position at which the defender tackles him. For example, a one-on-one, head-on tackle will look much more vicious than, say, a tackle where the defender barely catches the other player's arm and drags him down ever so lightly into the soft ground made of turf. Essentially, player models, movement and reactions are all just that much more life-like than previous installments.
Despite amazing visuals and beautiful graphics ,which includes grass that looks like you can feel it yourself, what really makes a game is the action that you orchestrate and the gameplay. After all, how fun can it be to control someone who runs with a ball down a 100-yard field? Well, the same as it has been for the last few years. Something that some Madden fanatics will admit is the repetitiveness in the sequence of games: The ball snaps and the quarterback either hands it off or throws it to a player who then runs with it until he's pummeled into the ground. The thing is, essentially, that is what football is. Madden is at least an attempt to reflect its real life counterpart. Now that the overall visuals and movements look quite life-like, what else can the game developers do in terms of gameplay? Upon buying and starting the game, a player might be hesitant to try out any new features before jumping into playing online and attempting to become the world's top Madden player. For the casual gamer, maybe, but for the veteran Madden player, it would be no problem at all going straight to online play because overall the gameplay has changed very little.
What is there left to do with an NFL video game franchise, especially one that has exclusive rights to be the only company that can make official NFL games? The gameplay has had very few significant changes from one installment to the next over the past few years and despite the visuals and presentation being new and fresh, they lose their lustre somewhat quickly. Every year there are few, minor changes in this game and slight changes to teams' rosters. Yet, every year, the release of Madden is like a holiday. What is it that brings players back? Multi-player is where most of the fun is. Playing against another human is more challenging and interesting as it requires a different strategy and interaction, allows competition and of course bragging rights, which never gets old.