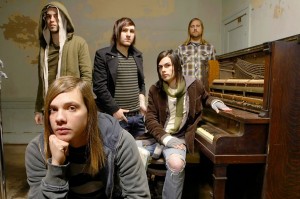 Pop Punk band The Red Jumpsuit Apparatus is back with their third studio album "Am I the Enemy."  After their disappointing sophomore album "Lonely Road" (2009), Red Jumpsuit Apparatus went back to the basics that brought them to stardom in 2006 with their first album, "Don't You Fake It."
Strong vocals, complemented by hints of screamo, and powerful metal like guitar riffs in songs such as "Reap" and "We Are the Heroes." Though the band hasn't totally abandoned the pop sounds that sank their last album, they now use some different computerized effects on the vocals in songs such as "Salvation" and "Dreams." Today it is hard to find a punk band that doesn't use some sort of computer effects. Finally, it wouldn't be a Red Jumpsuit Apparatus album without at least one love ballad, "Angels in Disguise" has hints of "Your Guardian Angel" a song off their first album that helped make them famous.
Although "Am I the Enemy" brought Red Jumpsuit Apparatus back to their roots and is leaps and bounds ahead of the failed "Lonely Road," It may not be enough to bring The Red Jumpsuit Apparatus back into the kind of spotlight their first album gave them. Time will tell.