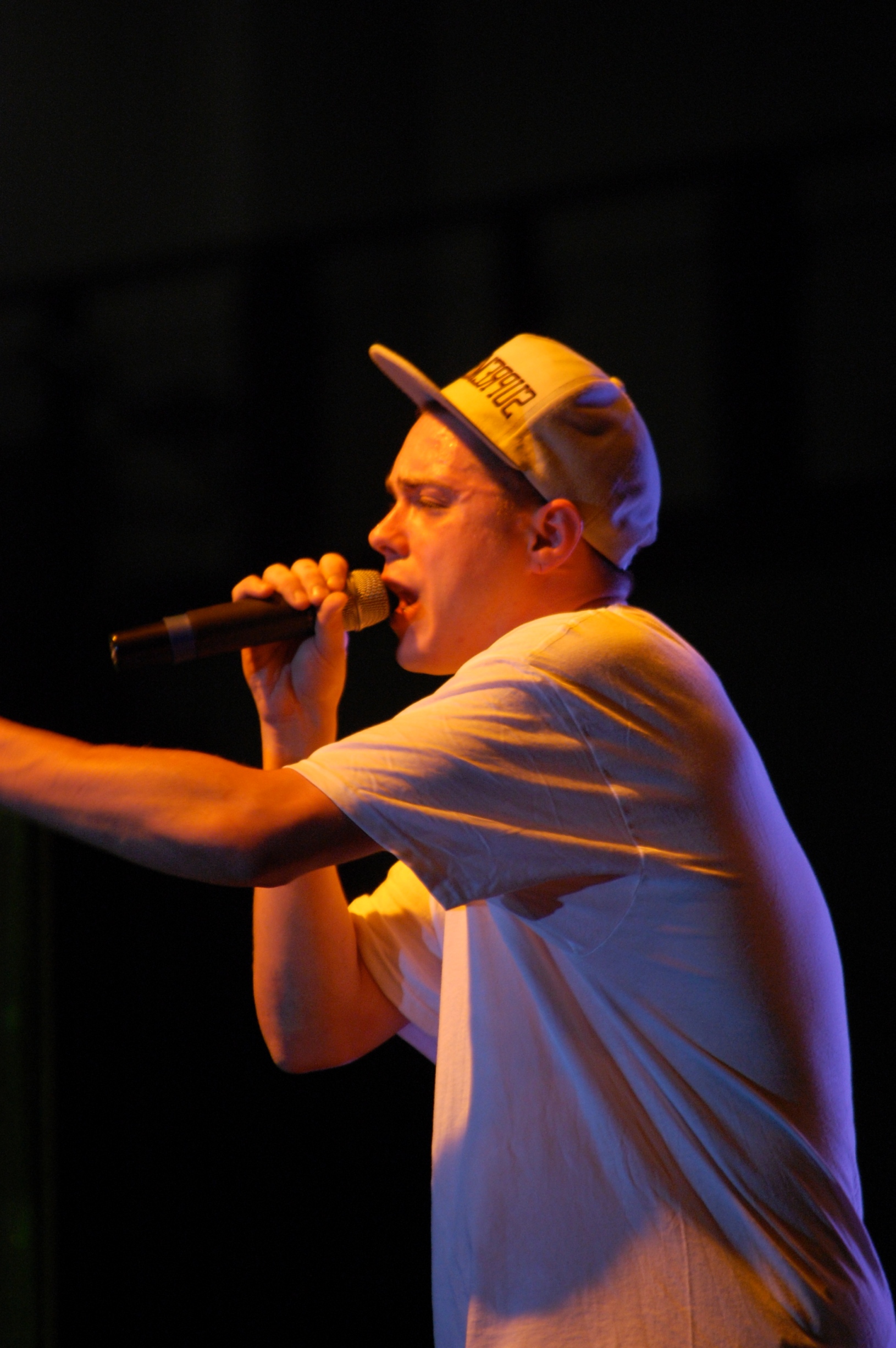 Sam Adams:
Q: What kind of routine do you have the day of a performance?
A: We just like to try and be as loose as possible. Like sound check; we just try and nail that in and then have fun. Our performances are so high energy, fun, we're just jumping around. It's all really high-spirited.
Q: Besides some of your lyrical inspirations, what from your college experience has helped shape your career as an artist?
A: Sh***y teachers, hating doing work, having a major; it sucks. When I figured out I wanted to do music, it's like I was seeing world politics classes and I was totally not driven to do homework. Besides that, doing work sucks, but learning and reading and becoming more adept to your situation is all big parts of being a musician; you got to be smart to write songs.
Q: I know you were an athlete in college. How were you able to balance music and academics?
A: It was actually a lot easier when I had music, soccer, and school. When I'm busy I do a lot better, even if I have just a ton of free time. Running from the studio, to soccer practice, to class, back to the studio and then games all really kept me committed to each thing.
Q: What advice would you give to someone, specifically a college student, who is trying to break out into the industry?
A: Find a following, find a fan base, make music that you love and just take risks. Get your name out there. I would never have released "I Hate College" if one of my friends didn't steal off my computer [laughs]. So just take risks, find out what works and what doesn't. Develop your own sound; if you love your music and your crew loves it, then people are bound to like it. And practice your live show, it's the most important thing. You can have amazing songs on the radio, but then your live show is like…"how do I do this?"
Q: What quality do you think sets you apart from other artists?
A: I'm like a comedian, I just love having fun. If these guys (crew) are laughing, it's a good day. If not, they're probably just being s***theads [Laughs] I'm very charismatic, ambitious and extremely driven, whether it's in the studio, on stage or just meeting people. I love meeting my fans and being loyal to everyone. I think that's a quality a lot of artists overlook. There's an image that people have in the music industry and an ego-attached other side of people that I completely want to get rid of because I think it's ridiculous. Just 'cause you write songs and people love them doesn't mean you can be an a**hole.
Q: If you could collaborate with anyone, alive or dead, who would it be?
A: Bob Marley…and Led Zeppelin…on one track [Laughs]. That's for people that have passed. Alive? Probably Kanye…Madonna on the same track.
Q: When did you start rapping, and who were some on your influences when you started?
A: I started rapping when I was 12 years old and Tupac was a big influence. Canibus, Eminem, real lyrical guys I really liked a lot. I was on that for years and then Kanye West, and of course Jay-Z and Nas. The greats basically.
Q: What were some of your expectations when you first started rapping? Did you ever expect to be where you are now?
A: First of all, I'm not satisfied with where I'm at. I'm grateful for it, but I know I have a ways to go. I never really thought about the shows; I just wanted people to like the music. So at least that part I did believe in. I knew people would like it.
Q: Your songs are really intricate lyrically and your beats are really unique. What's your music-making process like?
A: I usually just sit around making beats until I make one that hits me, then I just start humming, maybe come up with a hook. Sometimes it grows [into] a full song, sometimes a verse, that's usually how it goes. The lyrics just come after the beat, [it ] kind of just tells me what to write.
Q: You've been on tour for a while now. What's your favorite thing about being on the road?
A: Going from new city to new city. The atmosphere, I guess. I like chillin' in new places and old places I've been to. Like we just went to New Orleans, it was my second time there but I was really excited to go.
Q: I know you graduated Magna Cum Laude at St. Johns. If you weren't rapping, where would you be?
A: I don't know…I think I'd probably be chasing some basketball dreams I had back in college.
Q: You've collaborated with rappers like Jay-Z and Wale. Who are some other artists you would like to collaborate with?
A: Probably Kanye West, Missy Elliott…Alicia Keys, Andre 3000, to name a few.
Q: What's it feel like to you when people tell you that your rhymes and songs are reminiscent of Nas?
A: It feels good man, 'cause I know what that feels like to be listening to that type of stuff and being blown away. I just try and put myself in their shoes. When I like somebody as much as they like me, I feel great about. I know exactly what it's like to be that much of a fan.
Q: Are you happy with the way your latest mixtape, "Friday Night Lights" turned out?
A: Absolutely. It's still working to this day. I still see people online saying: "oh my God, just got Friday Night Lights." Like you watch it grow legs and even when you think it's not working for you, it still is. Probably at this minute right now someone is hearing it for the first time, and hopefully liking it.
Q: So "Friday Night Lights" got great reception and you're blowing up. Now what have you got planned for the future?
A: The album is going to change a lot of things, so I can't wait to put it out. I can't wait for it to be here. And production wise, I think it's going to be a big year for me.