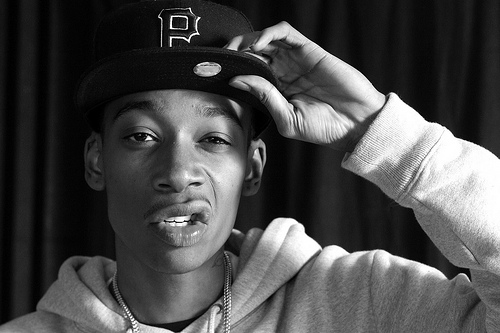 In the dawn of the new decade, the face of music is changing rapidly, and new artists are coming from all corners. Amidst all the smoke comes Pittsburgh native Wiz Khalifa's Atlantic Records debut, "Rolling Papers." With 2011 being Khalifa's breakthrough year, his rise to the top has been long overdue.
The album starts off slow with the track "When I'm Gone," which is supported by a melodic piano but quickly takes a turn when Khalifa opens up and the beat immediately drops; a superb introduction. "On My Level," a hard-hitting track featuring rapper Too $hort, is not one to take lightly. The video for the song was released in late January and already has over 11 million hits on YouTube. With Khalifa's indistinguishable lyrics and a hard instrumental line, the song acts as one of the only tracks on the album that is not about his newfound fame and fortune.
The next hard track on the album is none other than the unofficial anthem of Pittsburgh, "Black & Yellow." Gaining popularity as soon as it was released, and especially so during the Super Bowl, it received a substantial reception. The song reached number one on the Billboard Hot 100. Up next on the album is his newest hit single, "Roll Up," which has already hit 29 on the Billboard Hot 100.
"Hopes and Dreams" serves as one of the albums more relaxed tracks, while "Cameras" and "Wake Up" act as some of Khalifa's more pop-orientated tracks, which actually makes the songs fall slightly short. His songs that lean more to the side of pop are not all bad, but some just don't reach the bar.
"Fly Solo," unfortunately, falls into this category, sounding too much like a plastic radio song to be enjoyed. Not all of the pop-sounding songs on "Rolling Papers" are inferior. "The Race," is one most enjoyable tracks on the album, and is sure to be making an inevitable appearance in the mainstream world. It has already reached 66 on the Billboard Hot 100, and is sure to keep climbing the list.
Khalifa experiments with different levels on "Rolling Papers," especially with songs like "Get Your S**t." Singing more frequently and rapping about an old fling, it shows that Khalifa keeps breaking boundaries. Songs like "Rooftops," featuring the wordplay of the rapper Currensy, are guaranteed to be playing in your car while enjoying the spring weather.
Khalifa's major-label debut "Rolling Papers" has officially entered him into the mainstream hip-hop game. He has already performed with big name artists, including Snoop Dogg, Wu-Tang Clan and A Tribe Called Quest, and his rise to fame has just begun.