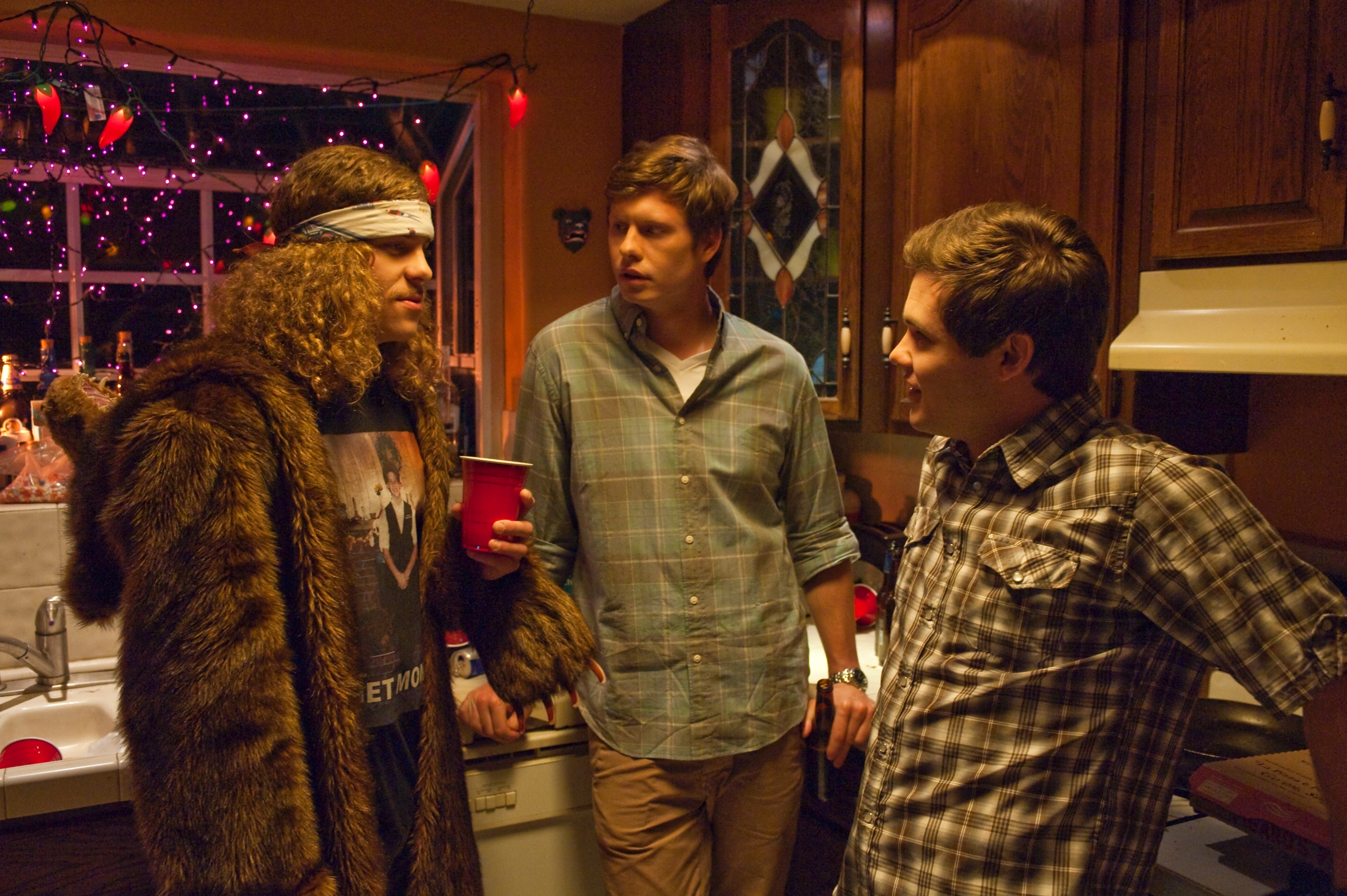 What do you do when all the drinking, partying and overall fun of college goes away and you have to get a real job? For the cast of Comedy Central's new show "Workaholics," the answer is to keep on doing it.
Directed by Kyle Newacheck and Chris Koch ("Modern Family"), the show stars Adam Devine, Anders "Ders" Holm and Blake Anderson as exaggerated versions of themselves. The trio all work together as telemarketers in an office during the day and party it up all night at their house.
The idea for the show came about when the group decided to create a show based on their past experiences.
"[Ders and I] both worked at telemarketing and it was just some of the worst experiences of our lives so we thought we'd bring that to television," Devine said.
With selling steaks over the phone, and the highlight of the day being winning a "Top Gun" hat for selling three, it was like a prison. Fortunately, the guys used these troublesome times as inspiration and came up with something unique. They also took inspiration from shows such as "Curb Your Enthusiasm," "Tim and Eric," "It's Always Sunny in Philadelphia" and "South Park."
Comedy is nothing new for the cast of "Workaholics." Working for notable groups, including Upright Citizen's Brigade, Second City and National Lampoon, they have plenty of experience.
"I met Ders at Second City while we were both students there and I was like 'Woah, this guy's weird' and he thought the same thing," Devine said. "So we just started hanging out everyday and working together and sort of teaching each other stuff and working off each other, and we got super comfortable with each other. It made making the TV show a lot easier because we knew what the [other] person was thinking and what they were going to say before they [said] it."
Interestingly, the show is shot in the real home of Devine, Anderson and Holm. This leaves them open to being potentially bombarded by a crazy fan but they don't mind, according to Anderson.
"That was really the whole thing for me…shooting at the house," Holm said. "Basically, I just want more friends. I guess what would be the craziest thing would be if [fans] came over, drank beers and watched Wrestlemania with us. I'm totally down for that."
Since they've known each other for so long from doing comedy, and living in a house and shooting together, what happens when tension builds?
"We live together and [hung] out every day for like seven or eight years now, so we're kind of like brothers," Devine explained. "We can fistfight each other and be OK an hour later, which we've done a few time."
"Workaholics" was picked up for 10 episodes and already looks like a crazy show. From trying to win tickets to a basketball game by holding their breath while submerged in rotten milk, to trying to defend their office from robbers by spending the night inside while being high on mushrooms, there's no telling what kind of crazy antics will occur next. The group gave some clues such as keg nog, rapping wizards, professional body-building and childhood heroes as to what can be expected.
There are also some familiar faces that can be expected to be seen throughout the season. Chris Parnell ("30 Rock") makes an appearence in one of the early episodes and there will be more cameos in the future. When asked who would make a cameo, Newacheck elaborated on their efforts.
"We've never done anything, so, for the most part, people in Hollywood are like 'screw these guys.' Don't expect too many. Gene Hackman is not showing up, Newacheck said. "We tried to find a child predator, basically, and we wanted to cast somebody famous so it wouldn't be as scary and we asked literally everyone. We went out to Paul Walker ("The Fast and the Furious") really hard and it turns out he doesn't want to play a child predator."
With this newfound success, there are bound to be people looking to become friends with the stars or attone for past mistakes.
"I'm just hoping they see it on television and cry themselves to sleep," Newacheck said. "I am getting a bunch of random people from high school that I didn't know or didn't like that are like 'I always knew you'd do it bro! We should hang out more man!' And I'm like 'I'm not…what?' It just goes to show you that you should treat everyone well because you never know who will become famous and end up with their own TV show.
"Work as hard as you can for as long as you can and something good will happen. Luckily [for us] it did, or else we'd all still be doing the same thing, just broke as hell," Anderson said.
For those interested in watching "Workaholics," there are a few different options. The cast's past work can be seen on http://www.mailordercomedy.com, and the show's webpage on http://www.comedycentral.com, which features exclusive videos, such as web-only skits and behind the scenes interviews. The show also has its own Facebook page and Devine, Holm, Anderson and Newacheck can each be followed on Twitter. They tweet constantly and sometimes respond to questions and Anderson responds to every person that tweets him.
"I do think it's cool though with all the comments on Twitter and having all that available," Anderson said. "It does make you feel more connected to the fans and it's cool to be able to give love back to the people if they're showing you love."
"Workaholics" premiered Wednesday, April 6 on Comedy Central and airs every Wednesday nights at 10:30.