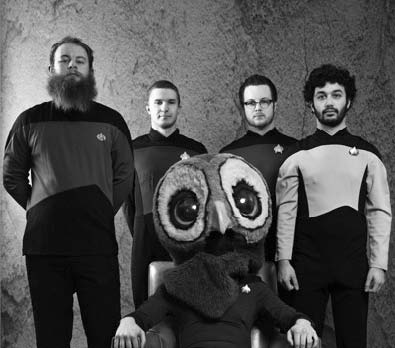 ""Scurrilous," the title for Canadian metal band Protest the Hero's third studio album, may be the perfect description of the record. Its complexity and musical evolution moves the band's sound even further from the dogmatic metal archetype and pushes the band into new musical territory.
"The album's opener, "C'est La Vie," kicks off with dual-guitar riffs over a complex double-bass metal beat, with vocalist Rody Walker showcasing his range, dipping into falsettos and high pitched screams. The tempo never slows, as the band blasts into the second track, "Hair-Trigger," with guitars and bassist Arif Mirabdolbaghi trading complex riffs over Walker's lovesick lyrics. Guest vocalist Jadea Kelly duets with Walker at the end of the track over a winding guitar solo that builds to a sonic climax, showcasing the band's diverse songwriting skills.
"The band's technical prowess is virtually unmatched in the metal realm. Guitars and drums jackknife in and out of different time signatures; the guitars maneuver complex scales with ease and Walker flexes his vocal development on the album. Absent from this record are Walker's high pitched hardcore-influenced screams, but his voice is more refined and shows a more impressive range.
""Scurrilous" as a whole deviates from the hardcore roots of the two previous albums and, instead, favors a face-melting power metal sound steeped in progressive elements. Walker takes over lyric writing duties from primary songwriter Mirabdolbaghi and the result is a more relatable tone—Walker details personal conflicts in love, loss and integrity that seem to fit the band's evolving sound precisely against Mirabdolbaghi's battle and fantasy-inspired imagery.
"But where the members of Protest the Hero have clearly become expert axe men in the metal community, the sound can be, at times, overwhelmingly intricate. Some of the songs suffer from a lack of creativity, readily apparent on 2008's "Fortress," and drone on in endless scales. The average track length for the album runs over four-and-a-half minutes, without much respite from the attacking double bass pedal and flashy guitar solos. Whereas "Fortress" showcased a mélange of hardcore, metal, punk and jazz elements, "Scurrilous" offers more of a deviating metal sound that lacks some of the band's previous influences.
"The album, as a whole, unabatedly places Protest the Hero among the top metal artists in the genre. It's not for everyone, and even some of the most dedicated metal-heads will be turned off by the band's overpowering technicality. But the band's evolution, interestingly enough, to a suped-up take on classic 80s power metal will please diehard fans and invite the previous generation to sample what is undoubtedly one of the most talented bands in modern rock music.