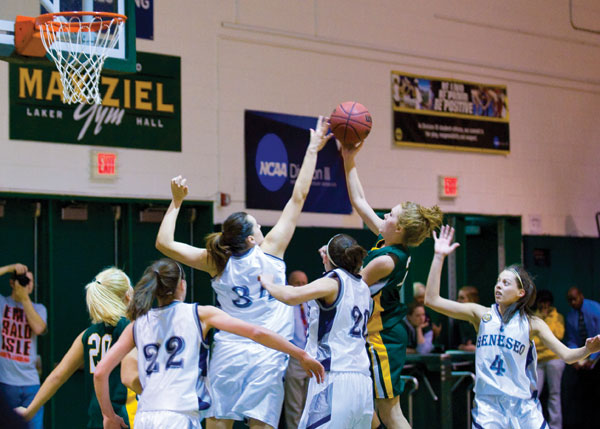 The Oswego State women's' basketball team was unable to send off its seniors with a victory on Senior Day, as the it fell to top-ranked SUNY Geneseo, 66-47, on Saturday afternoon at Max Ziel Gymnasium in Laker Hall. The Lakers ended their regular season with an 11-14 and an 8-10 overall record against SUNYAC opponents.
The Blue Knights (21-3, 16-1 SUNYAC) took control of the game early on, going on a 7-0 run in the first three minutes of the game. Oswego State senior guard Wanda Sanchez hit a jumper to end the Laker's scoreless streak and cut the lead to five, but that would be the closest they would come to Geneseo for the remainder of the game.
Geneseo continued to build upon its lead, taking a 33-14 advantage with just over four minutes left in the first half. The Lakers were able to go on a run and decrease their deficit to 12 by halftime, but the Blue Knights took charge once again in the second half and would eventually lead by as much as 24.
Junior guard Bri Dunton scored a game-high 13 points for Geneseo. Freshman forward Leah Sobieraski totaled 12 points for the Blue Knights, despite playing only 11 minutes.
Geneseo head coach Scott Hemer thought the team did a good job executing his game plan.
"We want to get out in transition, try to finish our lay-ups without turning the ball over, and we want to hold teams to one shot at the defensive end," Hemer said. "I thought we did that. We out-rebounded them by almost 10, and I thought we did a pretty good job on the boards, holding them to only five offensive rebounds."
Geneseo played physical and aggressive on defense, recording 36 total rebounds and forcing 13 steals. Oswego State coach Tracy Bruno said the Blue Knights' size was a large disadvantage for the Lakers.
"They're just big, first and foremost," Bruno said. "They're very physical on the perimeter. They jump the ball screens, which makes it difficult to make quick decisions out there, especially with our smaller size."
Senior guard Kristen Diglio and sophomore guard Meagan Stover each led the Lakers with nine points. Prior to the game, Diglio, Sanchez and fellow seniors Traci Bacon and Colleen McCready were honored by their coaches, teammates and those in attendance for the years they have spent with the team.
The loss for Oswego State came hours after an 84-61 victory against visiting SUNY Brockport the night before. The Lakers will gear up for postseason play, for which Bruno believes her team is now better suited.
"I think that if you look at our team now compared to two weeks ago, we've made vast improvements," Bruno said. "We're just going to continue to build on those things and stick to what we're built on, and that's playing defense and continuing to ask people to step up and make big plays."
The loss carried over to Tuesday nights SUNYAC quarterfinal games, as the No. 6 Lakers were eliminated from playoff contention, falling to No. 3 SUNY New Paltz, 69-54.
The Lakers held a 29-27 lead at halftime but were outscored 42-25 in the second half and shot just 28.3 percent for the game. Oswego State finished its season at 11-15 overall and 8-10 in conference.