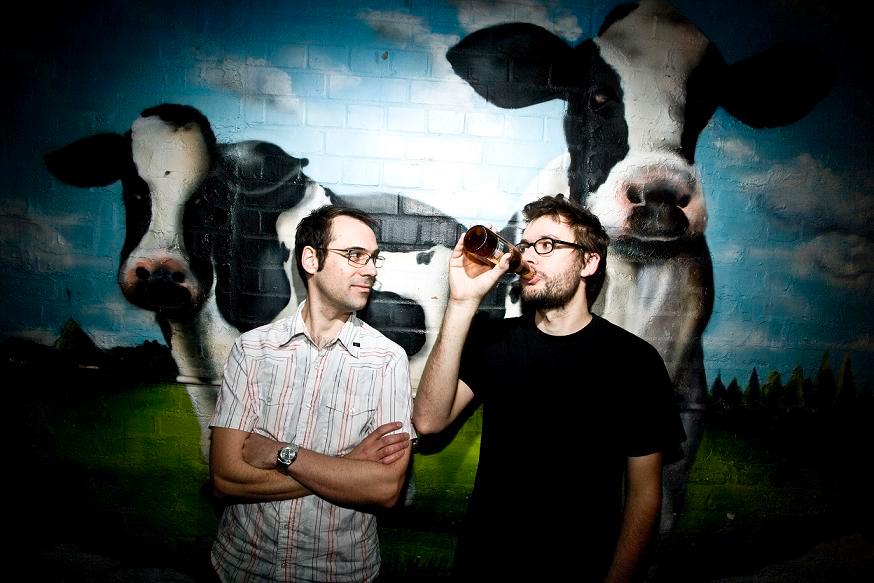 I've been enjoying the music of Plastic Operator for years now and with the release of a new set of remixes of their track "Singing all the Time," I thought now was the perfect time to reach out to the dynamic indie/electronic duo. I spoke with Mathieu Gendreau.
Q: There are strong melodies in all your songs. Do you start with the melody and then the song evolves from there?
A: It's a mix of both. We often start with an instrumental track and sing what we call "fake lyrics" on top of it to nail the melody. So both melodies and chords come together pretty quickly. Then we spend a fair amount of time arranging the song, producing the beats and writing the real lyrics. Aside [from] finding great melodic hooks, the arrangement is the most important thing. It has to feel right from the first beat of the song to the last. That is something I learned when I was an engineer for Arthur Baker. It's a vibe thing in the end.
Q: What instrument did you use for the beginning of "The Pleasure is Mine"? I've never heard a sound so electronic and soothing at the same time.
A: The soft intro chords are played on a software synth organ in Logic. The melody has been sampled from a toy. We sampled all the notes from the toy and changed the melody and rhythm. Sampling the 8-bit toy generated a distinct sound which would be hard to create with a regular synth or a computer.
Q: What is your live band set up? What gear do you have on stage?
A: We run two laptops with Ableton Live. We cut up all our songs in loops which are running on one laptop. The other laptop allows us to play the software synths we used on the album and trigger samples from the Ableton software sampler. We also use a couple hardware synths and a guitar. The setup allows us to jam with the loops and we play as many live parts as we can. We have complete freedom and it can all go wrong if we press the wrong button. That's what we love about it. It's a real live situation.
Q: Do you have any outrageous stories from the tours?
A: Things often go smoothly aside from a computer crash in front of a 2000-plus crowd or the occasional drunk fan asking Pieter to be her husband. The best one is when we ran into a couple fans at an after-show party; for some reason the two women did not believe that we were Plastic Operator. They hung out with us for a good chunk of the night thinking that we were not Mathieu and Pieter. It was pretty hilarious as they fervently refused to believe what we said – not that we cared about convincing them anyway. The next day one of the women sent us an apologetic email. We told her she shouldn't apologize – we had a fun night. She did not believe that either.
Q: What was your favorite show to have played so far?
A: The Razzmatazz club in Barcelona is one of our favourite venues. Barcelona itself has a great vibe and the crowd is always fun. Also being flown to Paris from Montreal to play an eleven minutes set at Paris Fashion Week was a blast. We're very lucky to have the chance to travel the world to play music.
Q: Are you planning on making any new music or touring?
A: Yes. We just licensed a cover version of "I Won't Back Down" to Hed Kandi (Ministry of Sound.) It uses a sample of Booka Shade "Night Falls" and it's been a big hit on the dance floor for the past few months. We're also near completion of the next album. More touring will follow.