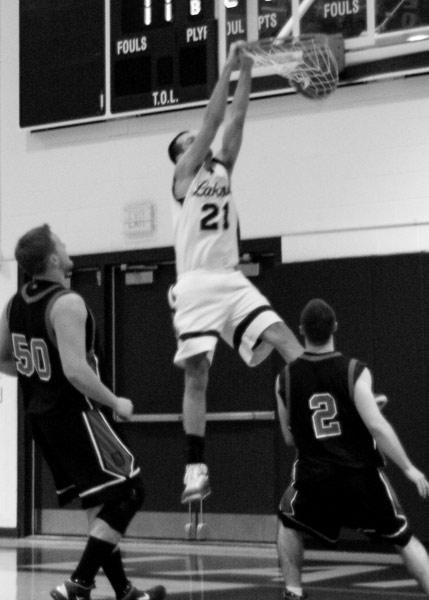 Winning a SUNYAC Championship is a feat that the Oswego State men's basketball team has not accomplished since 1964.
After their two-game road trip this weekend at SUNY Plattsburgh and SUNY Potsdam, the Lakers return home for the final three games of an already electrifying season.
Having won 10 straight contests, the red-hot Lakers enter the bout with second place Plattsburgh sitting atop the SUNYAC standings with a 12-1 conference record. At 17-3 overall on the season, the Lakers are seeded just outside the nation's Top-25 Division III schools, according to D3Hoops.com.
At the center of the Lakers success this season stands 6-foot-7-inch forward, Chad Burridge.
"He's the best player I've played with," said guard Jose Uribe, one of three team captains and the only senior.
Burridge has a knack for energizing the crowd, from monstrous dunks to breathtaking blocks off transition, making him the most exciting basketball player to come through Oswego State since Tommy Downing in 2009.
Coming up through Hannibal High School, Burridge was always a big fish in a small pond. He was the basketball team's leading scorer and all around go-to guy, but his quiet demeanor would never signal to a complete stranger that was the case.
Upon graduating from high school, Burride decided to follow in his older brother Mat's footsteps and enrolled at Oswego State. Not really known for its basketball prowess, some may have questioned his choice, but Burridge's ties to the school and its proximity to his family made the decision a no brainer.
"My Dad and Mom got me into sports," Burridge said. "It's good for them to be able to see my games."
After his first season with the Lakers, Burridge's game didn't go unnoticed. He was named SUNYAC Rookie of the Year, ECAC Upstate Rookie of the Year, and D3Hoops.com East Region Rookie of the Year.
As a sophomore, Burridge was faced with stepping into more of an unfamiliar situation. He knew for sure he would be counted on in more of a leadership role, but with new head coach Adam Stockwell at the helm he wasn't sure what else to expect.
After a daunting season in which the Lakers sputtered to a 13-13 overall record and were ousted in the first round of SUNYAC playoffs by SUNY Oneonta, Burridge was not discouraged. He finished first on the team in three major statistical categories: points, points per game and rebounds, but winning is the most important statistic to him.
Although he prefers to get the ball down in the paint, Burridge classifies himself as a Dirk Nowitzki-type player, a big guy that can step back and shoot from the perimeter, but is mostly effective when attacking the basket.
"Chad is versatile," coach Stockwell said. "He's long, tall, and athletic."
On Jan. 8, 2011, a Saturday afternoon game in Cortland, N.Y., Burridge registered his 1,000th point as a Laker. He is currently 12th on the all-time scoring list with 1,200 points and sits a mere 51 points behind his brother, who is the eleventh player on that list.
However, with the talent that is stepping up around him, there does not seem to be much need for Burridge to deviate from his strengths.
"We've had some young guys play important roles so far," Burridge said. "I'm seeing less double teams down low, because other guys are stepping up."
His selfless style of leadership has his teammates believing not only in him, but in themselves as well.
"Chad is a born leader," junior captain, Ryan Sheridan said. "He's all about winning."
As the season winds down and the playoff picture comes into focus, winning is exactly what the Lakers have in mind.
"From Day 1 our goal was to win the SUNYAC championship," Burridge said.
In order to reach that lofty goal, the Lakers must continue their strong play through the weekend where they find one of their toughest tests so far in the second place Plattsburgh Cardinals.
"We just need to take it one game at a time," Burridge said. "Keep focused and work hard."
As this Lakers attempt to etch its mark in Oswego State basketball lore, they will count on timely passing from juniors Conor Monaghan and Ryan Sheridan and lockdown defense from senior Jose Uribe, junior Sean Michele and sophomore Chris Gilkes. However, the main component that will push this team through the SUNYAC playoffs and beyond is their quiet junior captain who leads the team in points with 376, blocks with 37 and is averaging 18.8 points per game.