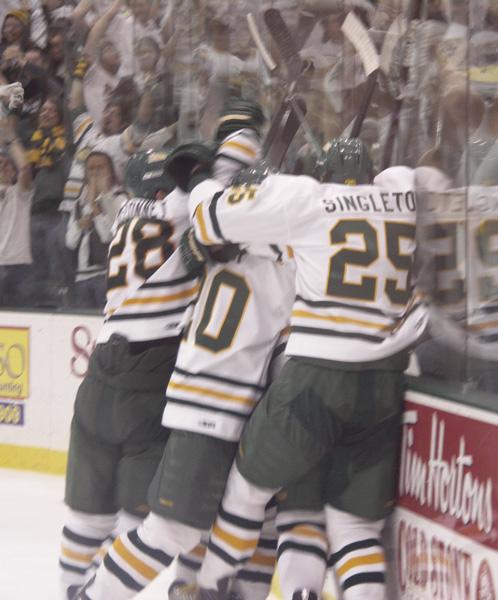 It's been nearly two months since the student body has seen the Oswego State men's ice hockey team play at the Campus Center Ice Arena, and they will not return to the campus until Saturday, Feb. 12, when they host Morrisville State College.
The Lakers have played nine games since their final home game of the Fall semester, a 2-1 victory over Utica College on Dec. 10. The win stretched their record to 12-0-0 and their home winning streak to 25 games.
Both streaks ended in back-to-back non-conference defeats. Oswego State's 12-game winning streak to open the regular season came to an end after a 5-2 setback to Hobart College at the Geneva Recreation Center on Dec. 11. The Lakers' 25-game home winning streak was snapped the following game in a 5-1 loss to Hamilton College in the first round of the Pathfinder Bank Oswego Hockey Classic on Dec. 30.
"The Hobart game at the end of the semester was disappointing," head coach Ed Gosek said. "The game against Hamilton to start the tournament wasn't much better. We stayed in that funk where we didn't have the right focus, didn't play hard, didn't play smart, didn't play with any passion or enthusiasm and it ended up costing us."
The Lakers haven't lost since, winning seven straight games, including four straight conference road games. Oswego State remains unbeaten in SUNYAC play at 12-0-0 with four games remaining (one on the road, three at home). The Lakers have swept the season series with SUNY Potsdam, SUNY Fredonia, Buffalo State and SUNY Plattsburgh.
"We were trying to get things going at both ends, offensively and defensively," Gosek said. "We weren't going to drop two games and just sit there thinking everything was all rosy."
The Lakers can clinch the regular season conference title and home ice in the playoffs with a win over SUNY Cortland, or a loss by SUNY Geneseo to Fredonia on Friday or Buffalo State on Saturday. The Ice Knights currently sit in second place in the conference, nine points behind the Lakers and two points in front of Morrisville for a first- round bye. The Lakers and Ice Knights meet on Saturday, Feb. 19, at the Campus Center Ice Arena on Senior Night. Geneseo is the last SUNYAC team to defeat the Lakers.
Following the loss to Hamilton, Gosek has been pleased with the way the defense has responded. In the past six games, the Laker defense has surrendered just eight goals.
"We were better against Skidmore and we were better against Curry," Gosek said. "Last weekend with Fredonia and Buffalo State, we were a little better. This weekend we were good Friday [against Brockport] and Saturday [against Plattsburgh] we were okay, not great, but they were desperate."
Junior forward Ian Boots and sophomore forward Jon Whitelaw have paced the team so far this semester. Boots has contributed seven goals and six assists in nine games for 13 points, while Whitelaw scored four goals and eight assists for 12 points. Boots continues a successful first season with the Lakers after finishing the first 12 games with 15 points on five goals and 10 assists. His 12 goals and 16 assists lead the team and his 28 points makes him 16th in Division III in scoring.
The Lakers survived a major hurdle after losing starting goalie Paul Beckwith to a collarbone injury in the first week of December. The Lakers were without Beckwith for six non-conference games, going 4-2-0 during that time span.
Backup goalie Dan Jones made his Laker debut against Utica College and earned his first collegiate win. Jones compiled a 3-1-0 record in the four games he started, sporting a .944 save percentage and allowing seven goals. Also filling in while Beckwith was out was sophomore Andrew Hare, the newest addition to the Laker roster. Hare, a transfer from Niagara College, was roughed up in his first start against Hamilton, but bounced back with a 3-0 shutout over Curry College.
Beckwith returned to the lineup on Friday, Jan. 21, at Buffalo State to begin the second half of conference play. Beckwith has won all four of his decisions since returning, improving his record to 15-0-0. In 15 starts this season, Beckwith has a 1.60 goals against average and a .942 save percentage.
More importantly, the offense has come to life once again with Beckwith back in net. In the last four games, the Lakers have scored 21 goals.
"We play a little more relaxed [with Beckwith in net]," Gosek said. "Players are more confident with him in net. It's nothing against [Dan] Jones and it's nothing against [Andrew] Hare. There's just a certain comfort level with Paul in there that has developed over the course of this season."
Despite having a similar record at this time last season, the Lakers have found themselves in much closer games this season. Last year, Oswego State outscored opponents by 3.28 goals per game. This season, they are only outscoring opponents by 2.38 goals per game.
"The experience a team has during the regular season helps shape and mold your team,"Gosek said. "Unlike last year where we had a lot of blowout wins, things aren't coming as easy as they did last year. The goal differential is tighter, we're in tight games, we're up by a goal, and we're down by a goal. That helps build character and helps build a better playoff-like mentality."
The Lakers hope to clinch the SUNYAC regular season title on Friday, Feb. 4, when they complete their five-game road trip at SUNY Cortland. The Lakers return to the Campus Center Ice Arena on Saturday, Feb. 12 when they host Morrisville. Oswego State completes its regular season the following weekend with games against SUNY Brockport and Geneseo.