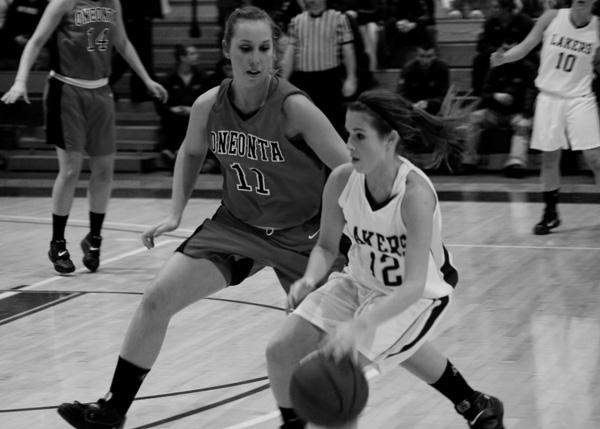 Freshman guard Lauren Nunziato scored 13 points in the final 5:36 of the first half to spark an 18-8 run by the Oswego State women's basketball team in a 58-47 upset of SUNY Oneonta at Max Ziel Gymnasium.
The Lakers were riding a three-game skid coming into Tuesday night's matchup with the Red Dragons. Oswego State had been outscored by a combined 56 points and was allowing 74.3 points per game in the three losses.
Junior captain Kayla Ryan scored the first seven points for the Lakers on Tuesday. The game remained close until the 5:36 mark, with neither team able to push the lead to more than five. Nunziato came off the bench and missed her first try from the field.
She would not miss again in the half, however, as she hit three consecutive attempts from behind the arc and cashed in on two other field goals. A layup by Ryan with eight seconds left in the half gave the Lakers a 35-26 lead.
Oswego State kept the lead around 10 points until the midway point of the second half. Nunziato continued to make an impact when she stole the ball and turned it into two easy points. She scored again on the following possession to push the lead to 12, but was forced to leave the game a minute later with a lower back injury and would not return.
With Nunziato out of the picture, Oneonta went on an immediate 8-2 run and the Oswego State lead was reduced to 51-45 with 3:28 remaining in the game. The Red Dragons would not score again until a meaningless buzzer-beater by Mary Kate O'Connell.
The Lakers allowed only three Oneonta shots, all from 3-point range in the final 3:28 until O'Connell's jumper. Ryan finished the game with only 12 points after her sizzling start, but she registered 13 rebounds in the win. Senior captain Traci Bacon scored eight points and doled out six assists after starting the game on the bench.
Oswego State made 12 free throws compared to just six for the Red Dragons, who were led by 11 points from O'Connell. Samantha Szkotak added 10 points and six rebounds for Oneonta, who drops to 15-4 overall and 9-3 in the SUNYAC.
Oswego State improves to 8-11 overall and 5-7 in conference play. The Lakers currently sit tied for fifth place in SUNYAC with Buffalo State, two games clear of SUNY Plattsburgh and 2.5 games ahead of SUNY Fredonia. The top eight teams in the conference make the postseason.
The Lakers look to carry the momentum of the upset into Friday's home contest against Cortland at 6 p.m.