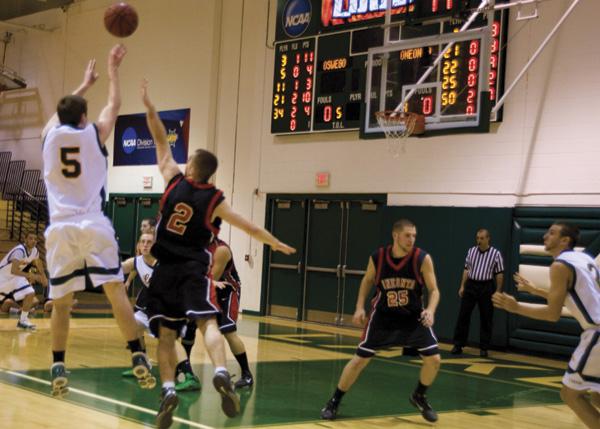 The Oswego State men's basketball team cruised to its eighth consecutive win with an 81-70 victory over SUNY Oneonta Tuesday night at Max Ziel Gymnasium in Laker Hall. The win avenged an earlier loss to the Red Dragons, in which the Lakers were handed their only conference defeat in a double overtime game.
Oswego State (15-3, 11-1 SUNYAC) controlled the game the entire time, leading by as much as 20 points with just over eight minutes remaining in the game. The Lakers never trailed at any point, as junior guard Sean Michele's 3-pointer 20 seconds into the game gave them a 3-0 lead, a lead they would never relinquish. Oswego State built a 40-27 lead by halftime.
The team struggled to convert shots for the first several minutes of the second half, allowing the Red Dragons (6-13, 5-7 SUNYAC) to come within nine points just under seven minutes into the half. From that point on, the Lakers built a lead that turned out to be insurmountable.
Junior forward Chad Burridge led the Lakers offensively with 18 points, including two crowd-energizing slam dunks in the final three minutes of the game. Junior guard Ryan Sheridan and sophomore forward Hayden Ward also reached double-digit points, scoring 16 and 13, respectively. As a team, the Lakers finished with a 57.1 shooting percentage from the field.
"I thought Hayden Ward played great," head coach Adam Stockwell said. "He really battled inside, and got a couple baskets inside. He scored with his back to the basket, which is great for us. Ryan Sheridan played one of his best games. I think tonight, you really got a chance to see when we have a lot of our guys playing efficiently, we've got a pretty balanced team."
Oswego State also played physical on the defensive side, forcing 15 turnovers and grabbing 17 defensive rebounds while racking up 20 total fouls in the process. Michele led the team with three steals and Burridge had a game-high two blocks.
"I think we shot the ball a lot better," Stockwell said. "I think we worked a little bit harder defensively. We still have a tough, tough time with their center. [Derek] Hahn's just a tough guy to handle inside. I thought we did a better job with the other four."
Hahn scored a game-high 21 points for SUNY Oneonta.
The victory for Oswego State marks the eighth consecutive win in conference play. The Lakers have now beaten every team in the SUNYAC at least once.