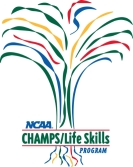 They are local, national and international. They are student-athletes and they all come to Oswego State to earn a degree and play the sports they all love.
However, because today's NCAA athletes have to perform successfully on and off the field, they are confronted with myriad academic and athletic challenges they are expected to overcome. To meet the needs of these students' athletes Oswego State adopted the Challenging Athletic Mind for Personal Success (CHAMPs/Life Skills) program in 1996.
The NCAA originally created the CHAMPs/Life Skills program in 1994.The goal was to help student- athletes excel in their academic and athletic life.
"We try to hit five areas, which are the athletic, academic, personal and career development and community service components," said Sue Witmer, the new academic support coordinator for the CHAMPs/Life Skills program.
The program supports the 24 intercollegiate men's and women's sports at Oswego State; however, taking part in the program is not a requirement in order for athletes to play their respective sport.
The CHAMPS/life skills program has grown over the years in student-athlete membership; around 300 students are currently involved in the program.
They have incorporated various activities to keep the students members engaged in their academic and athletic experience, such as a welcome back barbecue and a freshman athlete orientation, both of which take place at the beginning of the fall semester. The orientation shows potential students what Oswego State has to offer.
Student member and senior basketball player Traci Bacon described her first experience with the program as very helpful.
"I started my freshman year as a student-athlete; we had a freshman orientation where I got set up with a student-athlete mentor who helped me with my scheduling and time management skills," Bacon said.
The program helped with her academics, as well as her athletics. The CHAMPs/ Life Skills program mentor also kept her connected with the whole athletic department.
"We exchanged information and we were able to talk if there was ever an issue with my academics," Bacon said.
Academically, student-athletes have demonstrated to be one of the best in their academic performance, compared to the rest of the student body.
"Lakers team members are awarded more academic awards of excellence, compared to the rest of the Oswego state community," Witmer said.
Also, the Laker athletics website reported that more than 100 Lakers earned all-academic honors from the SUNY Athletic Conference each year.
The program encourages the constant support of some of the members, such as Matt Wopperer, a senior student athlete mentor for the Lakers' soccer team.
"As a student-athlete mentor for the men's soccer team, it pretty much entails making sure if kids are struggling academically, so that I could help them in any way, or if kids are getting in trouble off the field that's another area I come in," Wopperer said. "Also, the athletic department likes to put up events where motivational speakers are invited to kind of build teams and get teams interacting with one another. It is my job to get the soccer team to go to those events, especially because they are really beneficial."
Wopperer typically reaches out to the soccer team by telling them about his experiences with the motivational speakers' events.
"For example, last year we had a guy who came and talked about how to use your athletic background in a job interview and since I am graduating in May, the event was beneficial to me because I didn't have any idea of how to go through an interview," Wopperer said. "He gave me really good insights. For the other younger guys, they don't realize what they could get from a motivational speaker like that, so I share my good experience with them and if they give it, chances are it would be a good experience for them too."
The program also offers community service opportunities such as cleaning up day, kid's day out and kid's night out annual events and a PED 295 course offered every semester.
For example, student athletes gathered together in October to rake leaves for senior citizen in the Oswego community. They also volunteered to spend a day and a night with children with the kid's day out and kid's night out annual event, in which athletes serve as role models for kids within the Oswego community. They play games and do arts and crafts with the children.
"I think is a fantastic program," Wopperer said. "It gives the upper classmen and freshmen the opportunity to meet people they would not otherwise meet. It gives you a chance to improve your leadership qualities and give back to kids in need."