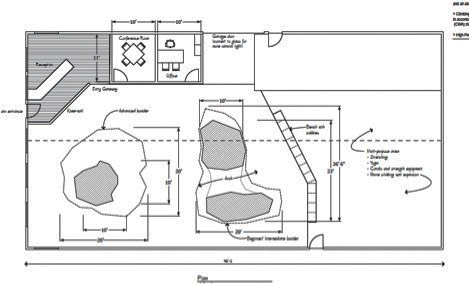 The Wall, a rock climbing center set to open in early December, will be located on West First Street, across from Fuller's Fitness.
The climbing center will feature a bouldering wall in the middle of the facility and the walls will be no more than 15'9" in height. Climbers will tactically approach the wall to reach the top hold. Unlike other climbing centers, no ropes are required.
The Wall will host competitions between outdoor clubs, lessons for novice climbers, a party room for birthdays and bachelor parties and team building exercises for religious organizations and local businesses.
"What many don't realize is that we are so close to mountains and bouldering opportunities, all these skills would be applicable to those who want to go outdoors like in the Adirondacks or Catskills," Wall owner Mike Taber said.
Taber is a 2006 graduate of Oswego State. He earned his degree in business administration and has since built his own house and owned the soda bar Tastebuds through 2008. Currently, Taber is working at Burkes Home Center.
It was his desire to open a climbing center "that will give kids and adults something to do, an alternate form of exercise and to be a place to have fun in the community."
While experienced climbers are Taber's target audience, he wants to stress the concern for attracting new climbers as well.
"Our staff will be providing climbing movement lessons. They will be teaching people on understanding balance, route setting, and the techniques of moving your body up the wall."
In addition to seeking student climbers, Taber will be opening the facility for company team-building exercises. Businesses can climb in the facility and use it as a source of advertising. Local companies will choose a section of wall and also choose a reward to be given to climbers as they scale the wall. Climbers are given climate cards and, after scaling a particular wall, a preset number of times they will receive the reward that was designated by the company.
"This program will draw climbers into other local businesses and will benefit the community," said Taber.
Pricing and membership are still being finalized; however, there will be student pricing and most importantly, Taber said it will be affordable.
"Climbing is a great alternative exercise and fun for all skill levels!" he said. It's an opportunity that Taber wants to be available and affordable to everyone.