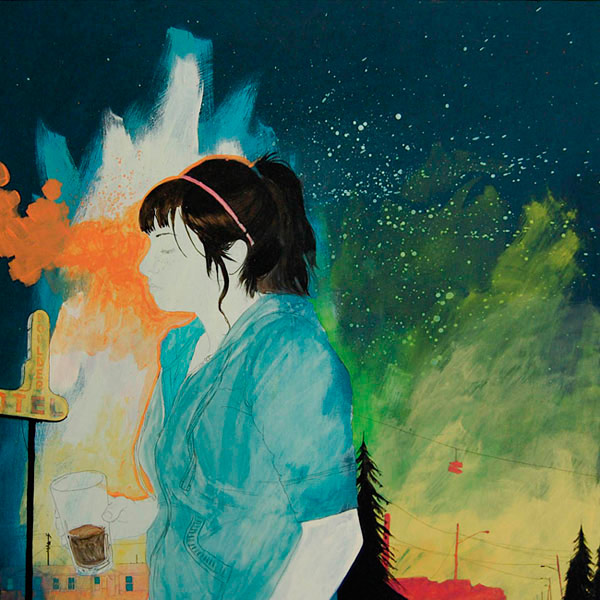 Cayetano Valenzuela is an artist whose vivid posters have been gracing the Oswego Indie series since its inception in Fall 2009. I spoke with him about his inspiration and his plans for the future.
Q: How did you get into art to begin with?
A: I have always been into art. When I was little, my mother was pretty much on her own so all of us kids would go everywhere with her. She would give me a stack of paper and a pen to occupy myself when she was at appointments.
Q: What is your art about; what has it been about?
A: I have been making work that explores the process of memory. I use my experiences and relationships to describe the America I know and remember. The people and underground culture I have met/been a part of in my travels are also being documented in a way as well.
Q: What are your favorite media to work in?
A: I paint with acrylics, but I also use ink and pencil. In my sketch book I use acrylic and watercolor. I just really love the transparency and fluidity of it. I also just love to draw, so I incorporate it in my paintings.
Q: What effect do you want your art to have on the world?
A: I guess intrigue. I want my images to give people a sense of the grand mystery of our own minds, the strange way it functions and gives us meaning, yet is able to overlap memory and resonate with something more poetic.
Q: Do you make mistakes creating art? What mistakes have you made?
A: Yeah, everyone makes mistakes. That is part of learning how to operate in the art field. The only way to make it is to just go for it even if you don't know how. In that way you say to yourself I am going to make something better than I ever have before. That is how I try to approach each piece I do.
Q: Do you think art can teach people anything?
A: Yes, of course. That is the whole reason art exists. Art wants to say something, to show the view some new way of looking at something or a new something to look at. A viewer can't help but learn from art.
Q: Where do you see your art taking you in five years?
A: Who knows, I mean, I am going to paint no matter what, but I have been getting a lot of band jobs lately. I also really want to try my hand at tattooing.
Q: Where do you see your art taking you in fifty years?
A: Well, I, of course, will be filthy rich sipping Jack-n-Coke in my ridiculously-sized house boat on the shores of Lake Ontario but only in the summer time. Most other times I will be jetting off to some opening or other. I will merely return for the fabulous sunsets. I will be in galleries internationally and making a healthy income from my paintings, illustrations and tattoo designs.