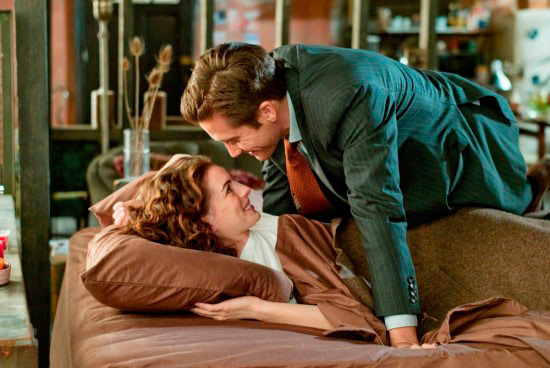 "Love and Other Drugs" depicts the relationship between a pharmaceutical salesman, played by a charming Jake Gyllenhaal ("Brokeback Mountain") and a feisty, young woman experiencing the early onset of Parkinson's disease, played by Anne Hathaway ("The Devil Wears Prada"). Despite the multitude of Viagra jokes one can expect from this dramedy, "Love" only subtly provides laughter, but no doubt leaves a strong impact.
Jamie Randall, (Gyllenhaal,) begins a job as a pharmaceutical representative after he was fired from his previous job. Gyllenhaal provides laughter in playing the arduous role of a salesman and through his facial gestures.
He then meets Maggie, (Hathaway,) while interning as a doctor, and their love quickly blooms- it does so rapidly that the film seems rushed and highly unrealistic, despite being based off Jamie Reidy's non-fiction book, "Hard Sell: The Evolution of a Viagra Salesman."
It is with the invention of Viagra that Jamie lands his breakthrough as a salesman. However, his budding career takes focus from Maggie, who needs support while struggling with her disease.
The comedy aspect of "Love and Other Drugs" disappears and invites drama once the film dives into Maggie's debilitating condition; her hand tremors throughout the film subtly intensify this mood, and climaxes as she breaks down.
One can say the film is appropriately titled as it is separated into two halves: the "Drugs" half is exemplified throughout the first half hour or so in the film, while "Love" accounts for the rest of it.
However, the "Love" part undoubtedly grabs more interest than the "Drugs" part, especially since Gyllenhaal and Hathaway are in the buff for most of the film.
With that being said, the couple definitely steals the spotlight from other subtle characters, including Jamie's sexually awkward younger brother, Josh (played by Josh Gad, who in no way resembles Gyllenhaal).
But it isn't only nudity and scintillation that makes "Love and Other Drugs" stand out from this season's movies. The film provides a unique insight to Parkinson's disease, as Maggie attends a convention about it. This film provides a moment of recognition for Parkinson's sufferers.
Gyllenhaal provides most of the comedy throughout "Love and Other Drugs," starting out as a womanizing sales rep, flirting with and exuding attraction from every woman with whom he comes in contact with.
Hathaway provides more of the drama, as she carries a no-nonsense attitude to hide her emotional struggle with her disease. Once the wall crumbles, Hathaway purges her emotions in a scene that will make one forget the smart-mouthed woman she was.
"Love and Other Drugs" provides a range of moods that will reel audiences in immediately. The film also includes a classic 90s soundtrack, including artists such as the Spin Doctors and Fatboy Slim. With outstanding performances from Gyllenhaal and Hathaway, the film will leave audiences in an upbeat attitude.