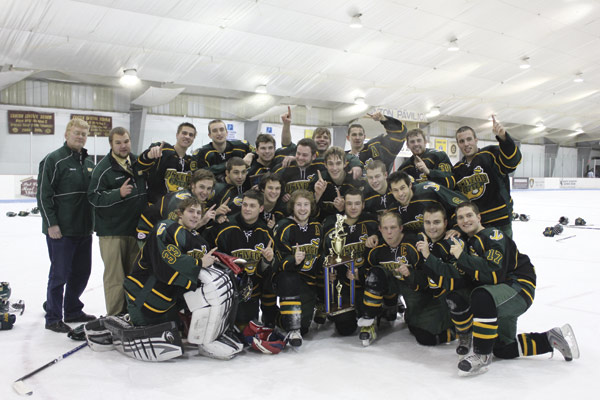 The Oswego State men's club hockey team took first place in the third annual Terry Martin/Pride's Corner Tournament on Nov. 20-21. The tournament, hosted by SUNY Canton, included Division I Cornell University and John Carroll University of the American Collegiate Hockey Association (ACHA).
The Lakers opened the tournament against Canton on Saturday, Nov. 20. Oswego State was decidedly the underdog for several reasons: it was homecoming weekend for Canton and it was the first time the public would be able to tour the university's new hockey arena and athletic facility, Roos House. Secondly, Kangaroos are ranked 19th in the country. They had only lost two previous times this season and were on a six-game winning streak.
Canton took the early lead over the Lakers, as the Kangaroos scored their first goal just 16 seconds into the game. They dominated the first period and the score was 3-0 two minutes into the second period. However, penalties proved to be Canton's undoing as Oswego scored three power play goals to tie up the game by the end of the second period.
Oswego State's Chris Timmons scored the Lakers' fourth and game-winning goal at the beginning of the third period and his second of the game with four minutes left as the Lakers shocked and silenced the loud and very large hometown crowd by scoring five straight goals. Justin Smith scored once and Chirs Covel added two goals for the Lakers. Assists were credited to Covel, Nick Atkins, Brad Kervin, Chase Collins and Mike Conklin. Senior goaltender Anthony Sellitti was superb in goal, especially in the third period as he stopped all 12 shots that he faced for a total of 32 saves in the game. The Lakers defeated Canton, 5-3, to advance to the championship game.
The second game that evening saw John Carroll defeat Cornell 3-2, sending the Blue Streaks to the title game.
In the championship game, it seemed like déjà vu for the Lakers, as John Carroll jumped out to a 3-1 lead by the middle of the second period. However, just like the day before, the Lakers stormed back and defeated John Carroll 4-3 to win the tournament. Oswego State goals were scored by Mike Steinke, Brad Kervin, Nick Atkins and Mike Renick. Assisting on the goals were Adam Webster, Jordan Romano, Smith, Covel and Steinke. Sophomore goaltender Aaron Frohm was credited with the win as he also played tough in net, stopping 28 shots.
Senior goaltender Anthony Sellitti, Covel and Renick were named to the All-Tournament Team. Renick was also named the tournament's Most Valuable Player.
The Lakers' next game will be on Saturday, Dec. 4 as they host RIT at 7 p.m. in a non-league contest. Oswego State will host Ithaca College on Sunday, Dec. 5, for an Northeast Collegiate Hockey League (NECHL) game at the Campus Center Ice Arena.