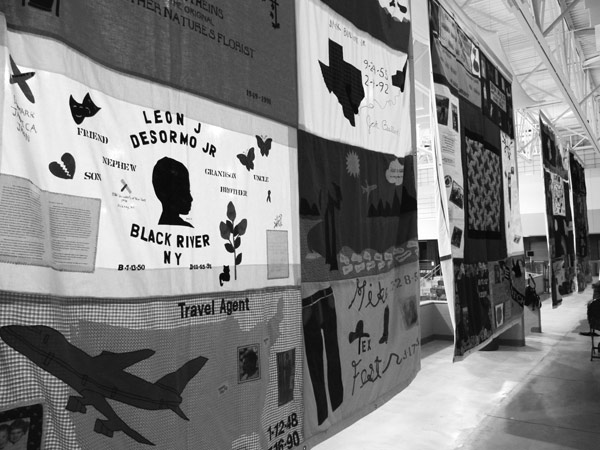 Pride Alliance, Oswego State's only Lesbian, Gay, Bisexual, Transgender, Queer, Questioning and Allies group (LGBTQA) invited anyone to come to the Campus Center on Dec. 2 at 7 p.m. to help create a quilt in remembrance of those affected by AIDS. In addition, the AIDS quilt, which travels across the country, was on display Dec. 1 and 2.
"The [AIDS] quilt is used as a memorial to and a celebration of the lives of anyone who has died due to AIDS related causes," said Mary King, Chief of Staff of Pride Alliance. "Anyone can add a panel to the quilt and it completely free."
Pride Alliance supported the effort and the Names Project Foundation brought the quilts to campus and maintained them. The Names Project Foundation was founded in 1987 in San Francisco and is a non-governmental organization. The foundation allows portions of the quilts to be displayed across the country. It contains over 91,000 names and weighs over 54 tons.
By bringing the quilts to Oswego State, the foundation wanted to provide a creative means for remembrance and healing, effectively illustrate the seriousness of AIDS and how much it has spread, assist with HIV-AIDS education and raise funds for community-based AIDS service organizations.
The purpose of the quilts is to bring awareness to the HIV virus, and to bring support to those suffering from the illness and for those who know someone suffering.
Working closely with the Names Project Foundation, the Pride Alliance group provides a safe place for students to explore their orientation and gender, a chance to meet others like themselves and a place for open discussion of the issues that face the gay and lesbian community.
Some of the goals that Pride Alliance include providing an opportunity for alternately orientated and gendered people and their allies to develop a positive self image, and to support the coming out process and to provide advocacy for the general community. They also work to end discrimination and oppression.
Pride Alliance also strives to increase awareness and acceptance of oppressed groups within the community to foster and ensure cooperation and unity among the members of the Pride Alliance.