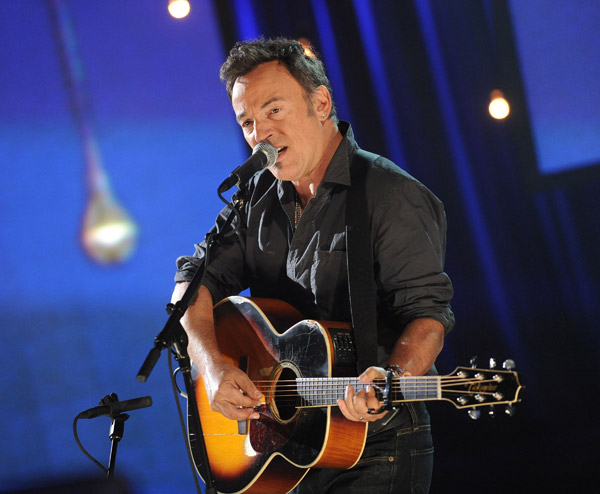 "Usually when an artist releases a collection of unreleased material and alternate versions of popular songs, disappointment follows. Usually the songs on these sets were not released for a reason. They were just slapped together onto an album, knowing all the die-hard fans would rush out and buy it.
"Luckily, Bruce Springsteen's "The Promise," a two-disc collection of 21 unreleased songs recorded during the sessions for his 1978 masterpiece, "Darkness on the Edge of Town," doesn't fall into that trap. It is a tremendous collection of music that shows the extraordinary depth of Springsteen's musical ability, and is actually one of the finest collections of music "The Boss" has ever released.
"The period during which these songs were written was a fruitful one for Springsteen. He recorded over 70 songs for the "Darkness" album, but discarded many of them because they didn't fit with the original album's overall mood. "Darkness on the Edge of Town" was meant to be a lean, stark record with stripped down songs that dealt with people struggling with the world. They were polar opposites of the epic, romanticized songs about escape from 1975's "Born to Run." But Springsteen is a legendary perfectionist, and many of the songs on "The Promise" were shelved. The fact the songs here were thrown on the scrap heap shows how high Springsteen's creative peak was at the time.
"The album begins with an alternate, full-band version of what might be Springsteen's finest song, "Racing in the Streets." This original was a piano ballad about people on the verge of ruin and chaos; this version, although it keeps a majority of the lyrics, might be even better thanks to the overwhelming power of the legendary E Street Band. The band, then consisting of Steven Van Zandt (guitar), Gary Tallent (bass), Roy Bittan (piano), Danny Federici (organ/keyboards), Max Weinberg (drums) and Clarence Clemons (saxophone), provide a backdrop that enhances the emotional impact of the story of the song.
"This trend continues on another standout track, "Someday (We'll Be Together)." Springsteen has always been influenced by the "wall of sound" pop songs created by Phil Spector in the 1960s, and "Someday" is no exception. It is a towering hymn about longing for lost love, complete with a choir of voices in the chorus that sounds like all of New Jersey is singing with Springsteen.
"The album strikes a nice balance between epic songs about perseverance and tragedy and light pop songs. Examples of the latter include "Gotta Get That Feeling" and "Save My Love," which both have galloping rhythms and, although Springsteen re-recorded the vocals for both of them, his singing still retains the innocence of the lyrics.
"The album also contains original versions of songs Springsteen gave to other artists, such as "Because the Night," which later became a hit for Patti Smith, and "Fire," which became a hit for The Pointer Sisters. Springsteen said he gave these songs away because he was unsure of his ability to write love songs, but these songs show that his songwriting ability was very assured.
"The album does have its weak spots. "The Brokenhearted" is a fairly slow and dull ballad, and "City of Night" is a reach back to Springsteen's even earlier stream-of-consciousness work, but it's a weak song with a very unusual vocal performance that is distracting.
"But there are so many great songs on this collection that the weaker ones do not seem to matter. "The Promise," which is also available as part of a box set including the original "Darkness on the Edge of Town" album, a documentary and two recorded concerts, is essential for fans of Springsteen. It's a great document of a legendary artist at the peak of his powers.