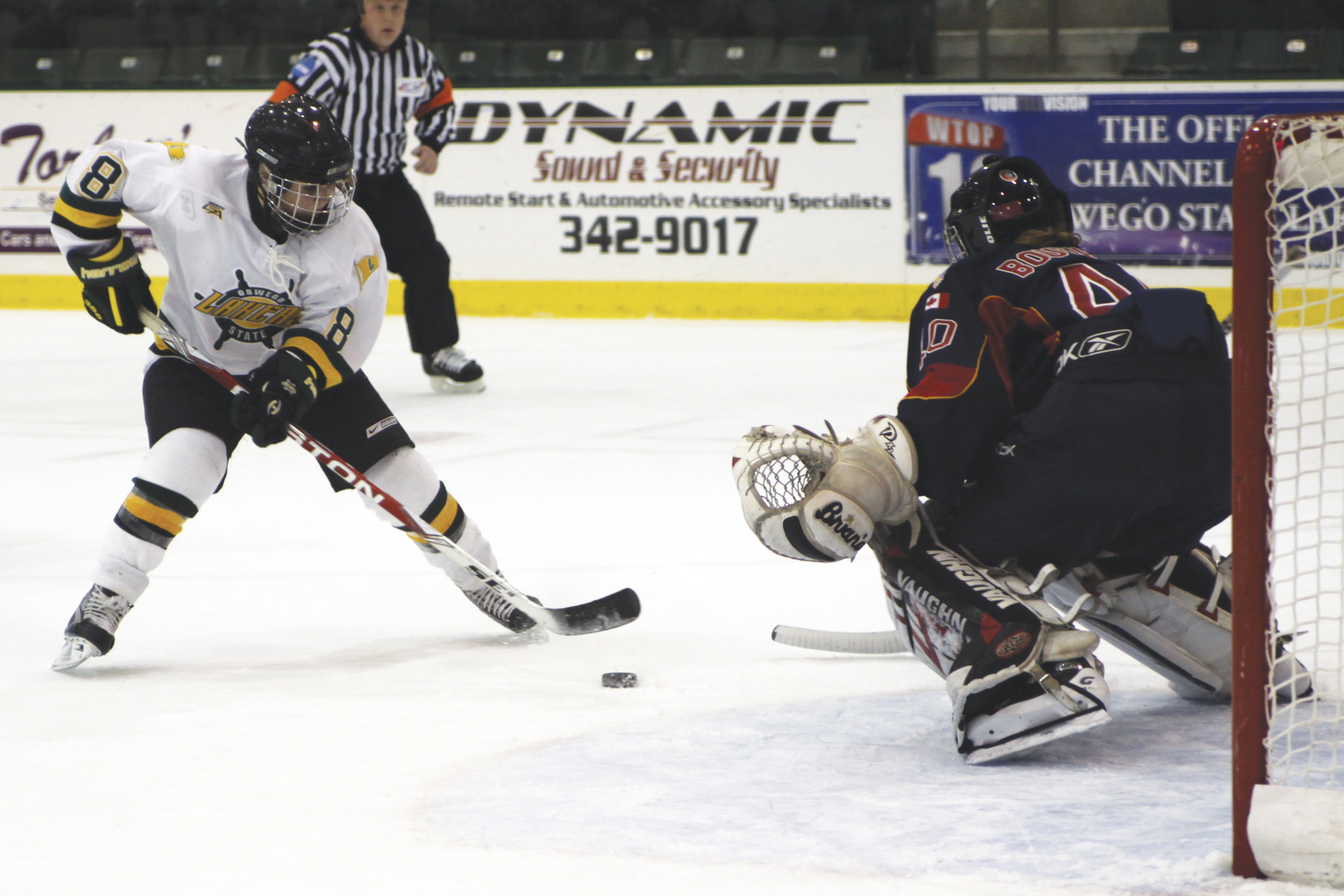 As the Oswego State men's hockey team prepares to face off against archrival SUNY Plattsburgh this Saturday night, the entire Oswego State campus is waiting in anticipation to watch what will be one of the most exciting games of the season. The rivalry has energized the student body all week between hour-long ticket lines and "Whiteout" shirts in the campus store. If anybody at Oswego State knows about the intensity of the Oswego State-Plattsburgh rivalry, it is junior forward Mackenzie Lee.
Lee, a transfer from Plattsburgh, is already making waves this season for the Oswego State women's hockey team. In an exhibition game against Aurora, Lee registered a hat trick. She also scored her first official goal of the season during the team's first win last weekend at Adrian College. With these achievements, Lee has already proven she is a great asset to the team.
Lee said she is much happier at Oswego State than she was at Plattsburgh both on and off the ice.
"[Plattsburgh] overall was not a good fit for me," Lee said. "I'm a lot closer to home here so my family can come see me play. I'm a lot happier here," Lee said.
As far as the hockey spirit on campus, Lee loves it.
"The whole community is on the hockey thing," Lee said.
This hockey spirit was especially active Monday morning as students lined up hours before the Campus Center box office opened just to make sure they could get their hands on a Plattsburgh ticket.
"It should be intense," Lee said. "There's a huge rivalry going both ways. At Plattsburgh it was a big game. Here it's a huge game, so it's going to be interesting to see who will win because they are both good teams, but I am rooting for Oswego State."
Regardless of how the game goes, one thing is for sure: Oswego State's hockey obsession is going to come out on Saturday. In addition to the hyped Plattsburgh game, the women have an equally important contest on Saturday afternoon. The team faces Elmira College, last season's ECAC West champions.
This game is going to be a huge test for the team, who is coming off a weekend split at Adrian last weekend. The 3-1 victory over Adrian was an important first step for the Lakers. The game gave them the opportunity to improve their game before Elmira and gave them a win to build off.
"We learned a lot, we tweaked a lot," Lee said. "It was our first college game against Adrian and you always have momentum off a win. Elmira is coming off a loss so we have the momentum going into it."
For Oswego State, this season is one with both changes and hopes of great success. The team has 11 new players this season, including Lee, as well as nine new freshmen. The new players have given the Lakers the extra pieces they have been looking for in their lineup, such as size, defense and productive forwards.
"I'm excited about the success we can have," Lee said. "The freshmen class is huge; they bring a lot to the team."
One of the biggest differences for Lee between the hockey teams at Oswego State and Plattsburgh is the hard work and motivation of the team.
"I've never been on a team that had this type of camaraderie and works hard every day," Lee said. "Our team is like a family, everybody gets along and everybody supports each other."
The Lakers hope to play a strong game against Elmira and continue to prove that this is their year.
"I think we are going to shock a lot of people with how big of a season we are going to have," Lee said. "Everybody brings their own thing to the team and we should have a lot of success this year."
Saturday will be a big day for Laker hockey, with the women facing off in the afternoon and the men in the evening.
"Elmira is always a big competitor in our league and obviously then with Plattsburgh, both will be good games to watch," Lee said.
Lee has hopes of offering her best to Oswego State in terms of hockey and also pursuing a career.
"Obviously school is the most important thing," Lee said. "I'm going for education. I want to be a teacher, but [as far as hockey] I just want to be successful, give my best to the team, be a competitor and be the best that I can be."
As far as her future in hockey, Lee hopes to be active in women's leagues and teaching the game.
"I hope to get into coaching," Lee said. "My dad played hockey, my brother played hockey and I was a rink rat my whole life. I don't think I could ever drop hockey completely."
Lee's favorite part about playing hockey is the satisfaction that comes from working together as a team and coming out on top.
"Winning as a team as a whole, not even individually [is most satisfying]," Lee said. "It just feels so good to win and be successful."
This is a good attitude to have since the women's hockey team will not be able to achieve success without teamwork. Wins against Aurora and Adrian, which both showed the spirit of teamwork, prove the team is poised to have a successful year.