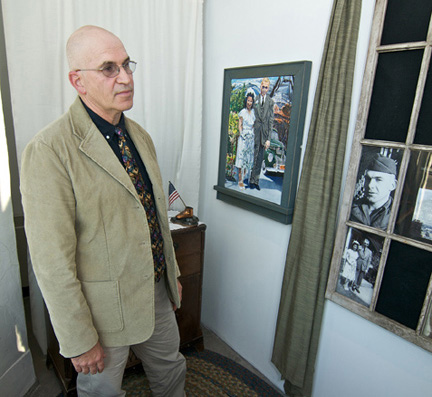 ""I want to welcome you to Grandma's house!" was how Tom MacPherson introduced his exhibit, "Documenti: The Italian American Family Album." MacPherson, an Oswego State alumnus, presented his unconventional, yet fascinating, art exhibit while explaining the logic behind the layout of the exhibit; the pieces of the exhibit act as "fading memories of people disappearing into time."
"The exhibit is an expression of MacPherson's memories, depicting his view on the Italian, Roman Catholic cultural spirit he was raised with. He included tangible, traditional artifacts throughout the room, including a Lay-Z-Boy that his grandmother warned him about. "Be careful of that chair; your grandpa died in it!"
"Paintings hung upon the walls paid homage to MacPherson's relatives. Created with egg tempera, a permanent, fast drying painting method that uses egg yolk, the finished product is extremely colorful, and catches the eye of viewers. Using this technique, it can take MacPherson anywhere from one week to about one month to create a finished piece.
"The portraits of MacPherson's relatives expresses their personalities, their experiences and the situations they lived. The color choice was, as MacPherson described it, a "psychological interpretation of who their personalities are."
"The effect of old-world Italian culture on MacPherson is presented through figures of faith, and with aged photographs arranged in a windowpane, giving the observer a perspective on MacPherson's feelings toward his family.
"MacPherson is a talented artist, and his collaboration of culture and strong family values throughout the exhibit was a hit. "Documenti: The Italian American Family Album" will be in the Tyler Art Gallery every Tuesday through Saturday until Nov. 23.