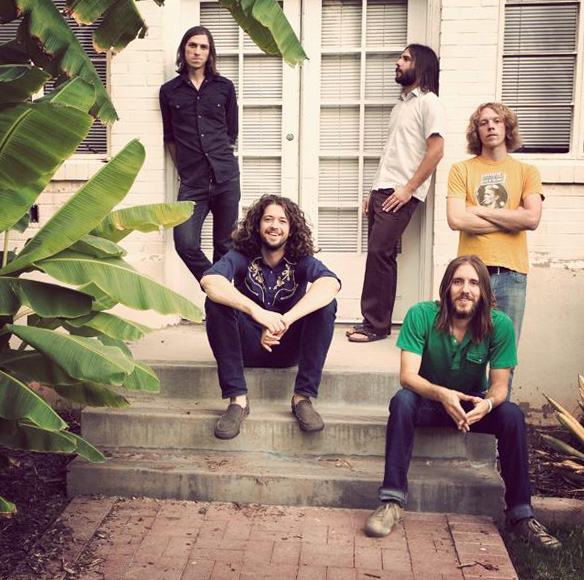 I had a chance to speak with up-and-coming Arizona band "What Laura Says" about their inspirations, experiences and their excellent new album "Bloom Creek."
1. Who is Laura? How did you come to personify what she says?
Laura is that special someone that we all have in our lives… guy or gal. It really is the most irrelevant word in the title – originally What Laura Says Thinks and Feels – yet it was installed during a bout of extreme post-emo satire. It all at once embodies a time of innocence in our lives, what we sought to separate ourselves from, and the ideal that you shouldn't take yourself too seriously.
2. Who did the evocative artwork on the cover of your new release "Bloom Creek?" Is it meant to be a "cat's cradle" of psychedelic elements? What does it all mean?
I discovered the artist – Jenkins… http://www.seesomework.co.uk/ – in a typical round of scouring the Internet for inspirational imagery… this time specifically for imagery to represent the music we had just created. The original piece that inspired me was titled 'Make Beautiful Things' and all at once fit the project more perfectly than anything I could have anticipated. We wanted something that embodied the work that we had just completed, and this image did just that – as if those were our hands, and the colors represented the sounds that we had just melded together. Jenkins himself added to the experience, in that he was just as excited to work with us as we were with him. A grand collaboration filled with respect and love for all involved!
3. Since you are a group from Arizona, what kind of music do you feel sounds like Arizona?
Having an amazing amount of sunshine, mountainous and desert landscape definitely seeps in to the creative output of most artists encountered in Arizona, ours included. However, Phoenix also has a crazy ephemeral, transitory feel about it that all at once brings a variety of outside influence and style into the scene, as well as a sense of urgency into the artists' realm. It's actually quite a burgeoning scene just waiting to be discovered; filled with a highly turned-on and vast demographic of people, crooked politics and hot nights!
4. How did the gentlemen in the group get together?
Starting quite simultaneously, James and Danny began a songwriting partnership at the same time Greg and myself (Mitch) formed a writing and rhythm team, ala Sly and Robbie. Jacob started in with the former just before a mutual friend put us all in the same room together. From that point on, it just made sense. It's a weird, yet undeniable feeling when it seems you're part of something bigger than yourself… something important. We went with that feeling and have been since 2006.
5. The group has a sound that draws from (in my mind at least) jazz, classic rock and Americana. What are some of the music groups and personalities the band draws inspiration from?
We are all extremely open-minded in terms of music. Everyone from Brahms to Bjork, The King's Singers to the Staples Singers, Esquivel to Ellington… it all goes into our musical subconscious and surfaces when the time is right. We all respect legendary figures that have come before us such as (and including the aforementioned) Fela Kuti, John Lennon et al., Brain Wilson, or Art Blakey… and aspire to be trail-blazers and steadfast in what we do, as they were. Also, we all seem to take a great deal from each other.
6. What was the process like recording an eclectic album like "Bloom Creek"?
It really came quite easily, as most of the tracks had been in the works since, well, the band's inception. A couple were culled from various back catalogs, and the rest written in the studio. Hibernating in a recording studio during the most dreadfully hot part of the year in Phoenix came naturally as well. We ended up working in the same studio and with the same engineers (Monk Studio, Scott Denison and Dave Bridge respectively) as we did on our debut. The band had morphed and solidified considerably by the time we recorded "Bloom Creek", in terms of playing together and our equipment, so even within it's eclectic-ness it feels a lot more focused to us.
For this particular project, we tried to do as much as possible live. We have a great communication and chemistry that we set out to capture in this way. Don't get me wrong; there was a great deal of over-dubbing involved – source material for DAYS that would be perfect fodder for this 'remix' era – but we did as much live and in groups as possible… vocals, percussion, rhythm tracks; we thrive off the groove we create together!
7. The band has shared the stage with Dr. Dog, My Morning Jacket, Lou Reed, Yo La Tengo, MGMT and Yeasayer, etc. Are there any notable events that happened as a result of playing with such high quality company?
We once had a 'Best Van' competition while playing with MGMT. A team of (12) panelist – including members of both bands, roadies and seedy folk – piled into our old, homey conversion van and then into their brand new Sprinter in order to judge who had the most lavish touring confines. Our hand-me-down silver van, lovingly dubbed 'Dura-vandura Vanheart,' won out in the end. Andrew VanWyngarden gave us his most prized black-light poster as reward. Planet Rock, I tell ya.
8. You just completed a tour with a group called Annuals, how did you get hooked up with them for the tour? What was your favorite performance of the tour?
Just as most all of our networking has gone, we were fortunate enough to team up with a lot of these great bands as they drifted through Phoenix and Tucson. The guys and gal in Annuals took extra special attention to what we were doing and decided to sign us to their record label, The Terpsikhore Collective. They ended up putting out our self-released debut, Thinks and Feels, as well as Bloom Cheek. Taking us on the road with them to help promote and spread the word about What Laura Says seemed a logical next step… and we have become such great friends and contemporaries that it assures a fun time for all in an otherwise stressful situation, as touring can often be.
The most memorable show came at the very end of our recent spring/summer tour with Annuals and The Most Serene Republic. The Mercury Lounge in NYC created a fitting finale to a great string of shows that spanned the U.S.; wrought with GREAT performances by all, guest spots by fellow musicians, and every musician on the tour crashing the stage for TMSR's last song. Tears, laughs, high-fives, sweaty hugs, and salty kisses all accounted for!
9. If you were trapped on a desert island and could only bring one instrument with you, what would it be?
Me personally… I would have to say a piano. Its all-encompassing and self-sufficient in terms of playing several parts together. It can sound mysterious, joyous, and playful all within a refrain. I love the way it makes melodies sing and harmonies blend. It'd be great to have a Rhodes, if there were an endless power supply to said island…
10. What do you have planned next?
What Laura Says is currently seeking new horizons in terms of a record label we can call home and a really ambitious booking agent. We intend to tour fiercely behind "Bloom Cheek" if and when that situation presents itself, and have already started demoing for our next record… which has us all excited to the utmost degree!