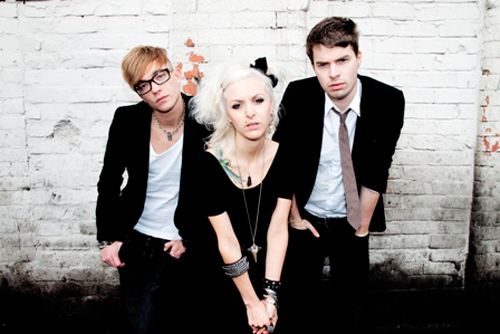 "Joe Stretch is the lead singer of Performance, a Manchester, England based band, as well as a celebrated author of edgy novels such as "Friction" and "Wildlife." With the release of three promotional videos for three tracks ("Reptile," "Let's Start", and "The Living") off their forthcoming album, "The Unconsoled," the excitement for Performance's return is at an all-time high. To address this anticipation, I spoke with Joe Stretch about the new album, irony, and sitting on the bottom of pools.
"
"Q: How was the process of developing this album different than the first (2007's "(we are) Performance)?
"
"A: It was much easier. We used studios less and wrote the whole thing in a bedroom. I liked that. I never liked the ostentatious side of all this. I always liked the domestic side of pop; posters on bedroom walls, the scraps left behind by magazine clippings.
"
"Q: It was mentioned that people wanted you to change your band's name. Did they give you potential alternate names? If so, what was the worst?
"A: I think the worst was 'Joy Boy.' But there were some terrible ones. We liked "Wonderland." But ultimately, it felt wrong. Rightly or wrongly, we'll always be Performance.
"
"Q: Do you think there is something engaging about writing songs that can be at once satirical and heartfelt?
"
"A: Yes, that's exactly what I try to do. I like a lyric to be both comment and expression, inside and outside itself. As you say, satirical and emotional. But also in the music we try to blend very conventional forms with words and lyrical tones that come, to some extent, from outside pop music.
"
"Q: You've been seriously interested in writing since you were ten years old. When did you start writing songs and lyrics and how do you feel your songwriting and novel writing feed into each other?
"
"A: I started writing songs when I was about ten. I read an adaptation of "Beowolf" and turned it into a song. I still don't really see myself as a songwriter. I'm just fond of saying things carefully. Sometimes I write them down. Sometimes it seems better to sing them. I actually don't think there's much link between writing songs and novels. Songs are about capturing moments. Novels are much slower, stranger things, really. They're heavy constructions, whereas songs can float on the breeze.
"
"Q: You said in a video that you're an avid swimmer. How did you get into that, did you swim on a team in school or anything like that?
"
"A: No. I got into swimming because I like the feeling of being underwater. Each day I try to lie on the bottom of a swimming pool. If I don't, I'm unsettled. I think underwater is a good place for people. I've always loved that moment in 'The Graduate' where Benjamin Braddock is standing in his parent's pool in a deep-sea diver's suit. I remember I did have a swimming lesson once. I wore Thunderbirds speedos.
"
"Q: What's next on the collective plate for (We Are) Performance?
"
"A: We're off to play a string of shows in England next month.