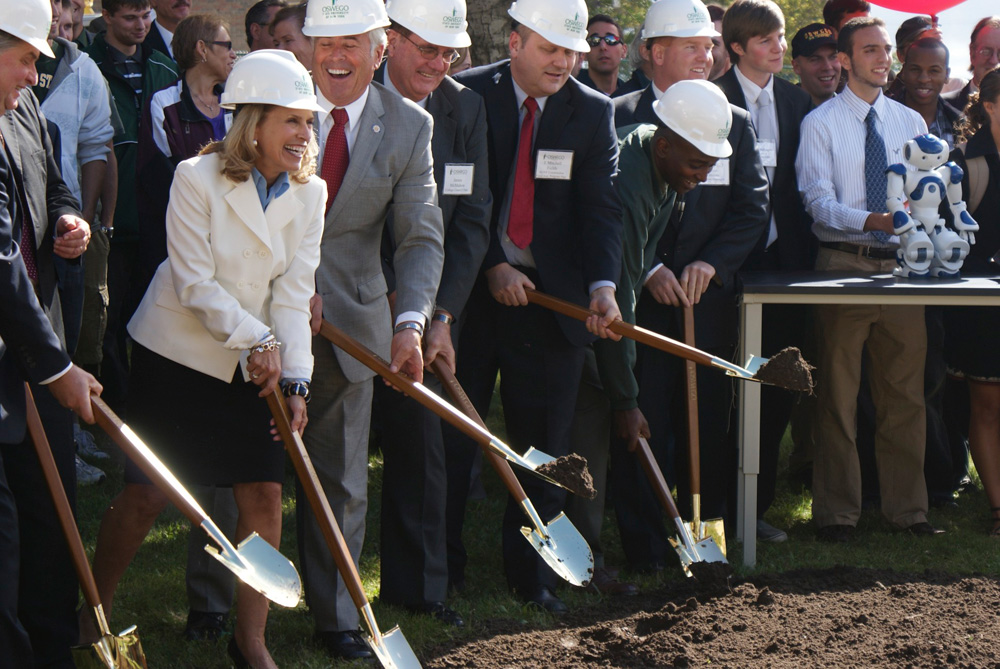 Ground was broken for the new science complex on Friday. The ceremony, which took place in front of Piez Hall, was presided over by Oswego State President Deborah Stanley.
"We're really looking forward to this exciting day and I've been looking forward to it for a long time," Stanley said. "The impact of this project on our community will be felt well before students and staff occupy it."
Stanley spoke about what the new $120 million construction project will bring to the school. She cited the green innovations that will be used in the building such as geo-thermal heating and photovoltaic cells on the roof.
Upon completion, Piez, which was originally built in 1962, will be three times the size it is now.
"Piez will be thoroughly renovated from the inside out," Stanley said.
New York State Senator Darrel Aubertine also spoke at the ceremony.
"This type of project doesn't happen every day," he said.
J. Mitchell Fields, from the State University Construction Fund, offered words about the opportunities that the construction project will provide.
"We work really hard to provide these opportunities for this campus," Fields said. "We are on schedule, on budget and going forward."