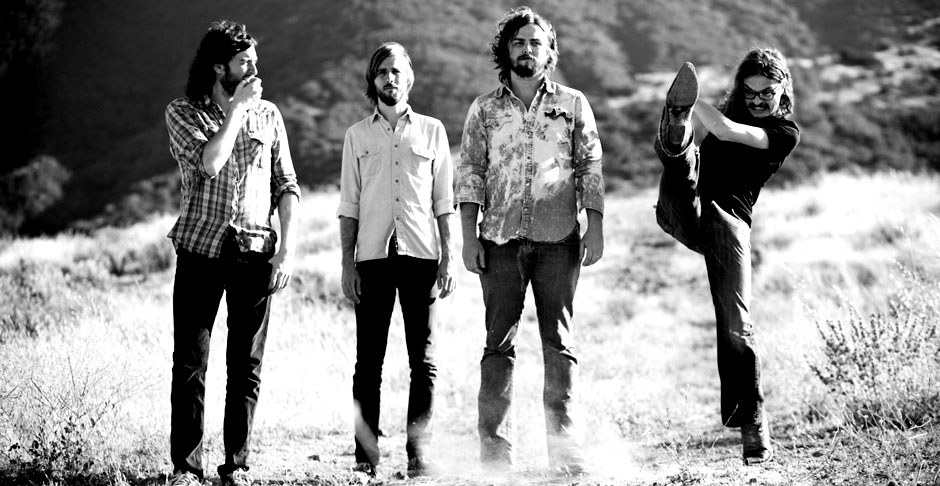 J. Roddy Walston & The Business is a band from Baltimore, Md., that vibrates with the energy of the best rock 'n' roll and is equally as timeless. Give their music a shot and you'll surely be blown away. Fans of classic rock, Kings of Leon and Led Zeppelin will find a lot to love here.
Q: Were you at all inspired by the way David Bowie set his group up as The Spiders From Mars in the early 70s?
A: I find Bowie inspiring but this band is more about being authentic where as Bowie is very much about pretending your way into a character. There are no costumes in this band or dress codes. Everybody does what they want.
Q: How long did it take to write the songs on the self-titled album?
A: Every song is different; some were really quick, but others like "Brave Man's Death" or "I Don't Wanna Hear It" took forever. We have probably 50 different versions of about half of the songs on the record. A lot of the stuff we recorded for the self-titled record took some convincing for the guys to see where I was coming from musically. So I would demo-out a really rough version of the song to show them how it would sound with our kind of vibe and energy. It took forever to write this record.
Q: You recorded the album in a marathon of nine days. Can you speak about that process?
A: It was pretty grueling. We would get up at 6 a.m. because there was a rooster farm behind the motel we were in, walk to the studio at 7ish and be there working non-stop till about 3 or 4 a.m. I really think there was a frantic/desperate energy that translated into the recordings and made this record feel alive. We worked on some of the songs for so long that they needed an outside force like that to really make us play them like they were brand new.
Q: The sound of the album has a fun, bluesy, old time rock 'n' roll feel. What artists or bands do you look to for inspiration or want to emulate?
A: We wear our influences on our sleeves (Led Zeppelin, The Band, etc) but really we are not trying to do a throwback or revivalist thing. We just wanted to make a rock and roll record right now. I guess a lot of the people we look up to were and are creating music with that same mentality.
Q: You guys have toured extensively. What is your favorite thing about touring? What is your least favorite?
A: Favorite thing is a tie between the moment when you can feel the crowd who has never seen you being won over and totally letting go. The other thing I particularly love is meeting people and staying with them. We have some amazing friends now that we would have never known had we been a band that stayed in motels every night. (The) worst part is being away from friends and family all the time…that can get pretty tough.
Q: I love the use of piano throughout the rolicking numbers. Is the piano something of an accent to be added later on, or is it at the core of the songwriting?
A: No, I write from the piano. We have resisted the "piano rock" thing for a long time because that seems like a gimmick and the piano is just a part of what we do. It's not an effect for the record.
Q: What's next for J Roddy Watson and the Business?
A: Lots of touring… some vacationing… collaboration with Kanye West since Falco is dead.