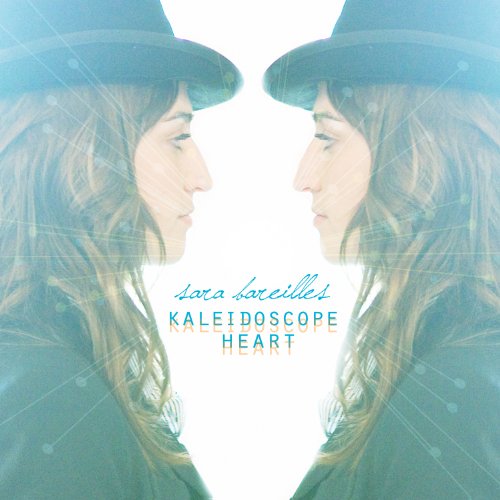 Sara Bareilles' 2007 hit single "Love Song" was an anthem skewering the endless supply of half-felt, lukewarm ballads, which monotonously march up the Top 40 charts. The song was ironic, smart, and catchy; it gave us our first look at an artist who plays like a virtuoso and writes like a firebrand. Listeners were left with a promise of more insightful, well-arranged tunes to come.
For the most part, "Kaleidoscope Heart" delivers; Bareilles' third studio album has a few standout hits, like the single "King of Anything," whose up-tempo beat and sharp-as-a-scalpel lyrics made it the obvious choice to be the record's lead-off single. "Kaleidoscope Heart" is a loosely constructed as a break-up album, with a few tangents to browbeat people who begin sentences with phrases like, 'what-you-should-do-is…'
But nothing on "Kaleidoscope Heart" is all one thing. The jazzy texture of "Not Alone" is a refreshing infusion of drums on the record where piano is the focus. Also, Bareilles noticeably stretches her fingers toward the lower ivories to balance out more delicate ditties. The track is more robust than any other on "Kaleidoscope Heart" and Bareilles kicks up the emotion in her voice to match.
Bareilles' songwriting works best when she employs a good metaphor to wrap her message in. She has the talent for it too; when she wants, Bareilles can pen a melody like "The Light," which is as sweet and innocent as a puppy licking sugar. Other times she flashes her badge as a lyrical knife-thrower with a tongue talented at delivering deep cuts, like in the song "Machine Gun" where she uses a Dear-Jane letter to jump-off and suggest that her ex may have been neglected as a child.
One exceptional song is "Uncharted" where the vocabulary of expedition, voyage and discovery cleverly stand in to discuss the distinctive "what-do-I-do-now" feeling, which appends itself to the experience of annihilating a relationship so hard and completely that it's as if you've torpedoed it with a neutron bomb. And in "King of Anything" the rather brilliant hook-line "Let me hold your crown, babe" puts a mocking tone on a tune that could have easily devolved into seething, unattractive anger.
Conversely, her songs fail when they become trapped in literalism. In "Breathe Again" Bareilles moans that a bygone beau is "All I have, All I need, he's the air I would kill to breathe… Out of breath. I am left hoping someday I'll breathe again." And that's it. The idea of lover as breath never gets deeper than that. Isn't there a more original way to express longing than that?
The same goes for "Let the Rain," which prattles on with predictable sentiments about starting over. I haven't done an exhaustive search, but I'm willing to bet a pretty penny that every songstress with a window is also peddling a sad song about rain.
Overall, the album is a good one front-loaded with catchy concoctions of pop with a few throwaways tossed in. Fans will be happy with the emotional depth of the album as it winds and weaves though the landmine of post-breakup heartache. Others will appreciate her wide range and sturdy compositions, which have great hooks but are also memorable for the emotional wallop they pack.