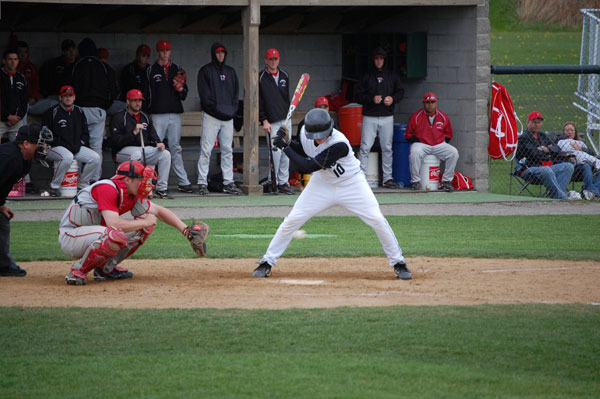 The Lakers dropped a pair of slugfests to arch rival SUNY Plattsburgh, losing 21-12 in game one and 10-7 in game two.
In game one, the Lakers found themselves trailing 3-0 after the Cardinals' bats chased starting pitcher Dan Erne out of the game after just four batters. Erne surrendered four hits and three runs, including a two-run home run to Pat Shaughnessy.
The Lakers would climb back into the game and take a 4-3 lead after a three-run second inning. Sophomore Dave Mazzullo shot a one-out single into right field and freshman Ryan Clements found a gap in left center for an RBI double. Sophomore Kane Share added an RBI double, followed by an RBI single by leadoff man Rafael Cordero.
In the top of the third, Laker pitcher Brady Farkas gave up three runs on three hits as the Lakers fell behind 6-3. Farkas went 41/3 innings allowing eight runs (three of which were earned) on seven hits and a pair of walks.
The Lakers were not finished as they answered back in the bottom of the fourth with three runs to regain the lead, 7-6. Junior Brooks Beatty led off with a double and Cordero drew a one-out walk. Senior Dan Slate flew out to center fielder Danny Roeser. Roeser threw to third to try and throw out a tagging Stark (who pinch ran for Beatty) but the throw was late. Stark came around to score and Cordero moved to third following third baseman Pat Shaghnessy's throwing error. Mike Tarnowski walked and Andrew Lazzaro stroked a two run double.
The lead would not last long as the Cardinals scored five runs in the fifth on just two hits. The Lakers committed three errors in the inning en route to a nine run loss in game one.
Slate, freshman Mike Tarnowski, sophomore Andrew Lazzaro and sophomore Kris Prikazsky each had a pair of RBIs and combined for six of the Lakers' 15 hits. Cordero and Share each added three hits and an RBI. Farkas was charged with the loss. Freshman Chris Nyman pitched 31/3 innings giving up 10 hits and 10 runs. Freshman Joe Salvatore went an inning and a third allowing a pair of hits.
The Lakers dropped game two, 10-7. Senior Andy Salvatore went 61/3 innings giving up 11 hits and 10 runs, walking four and striking out five. Seven of the 10 runs were earned as Salvatore suffered the loss. Junior Dustin Lefave went 22/3 innings of scoreless relief.
Once again the Lakers fell behind 3-0 after the top half of the first as the Cardinals pushed across three runs on four hits and an error.
The Lakers answered back with three runs in the second and would add three more in the third. Three straight singles in the bottom of the second had the Lakers off and running as freshman Ryan Clements led off with a single, followed by a Dan Erne single and then an RBI single by Beatty. Share laid down a sacrifice bunt, Cordero laced an RBI single and Slate added an RBI fielder's choice.
In the bottom of the third, Lazzaro drew a leadoff walk and Stark singled. Clements followed with an RBI double and Erne added a two-run single, giving the Lakers a 6-3 lead.
Plattsburgh began to chip away with a run in both the fourth and the fifth innings. A three-run sixth and a two-run seventh gave the Cardinals a 10-6 lead, one in which the Lakers could not overcome.
The Lakers will travel to SUNY Oneonta on Saturday, May 1.