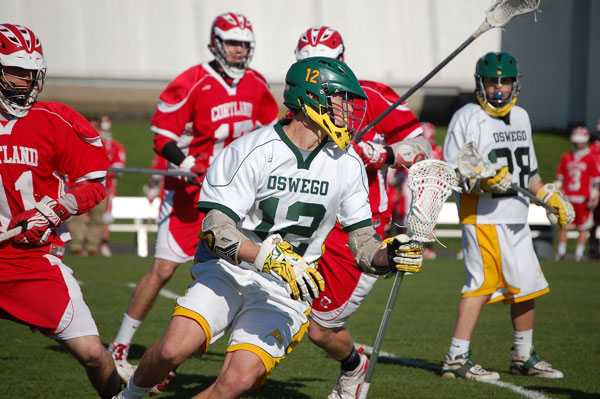 Nationally-ranked SUNY Cortland out-scored the Oswego State men's lacrosse team 12-2 in the second half as the Red Dragons handed the Lakers a 15-3 loss on Wednesday at Laker Field.
Cortland held a small 4-1 halftime lead due in part to the play of Oswego State senior goalie and co-captain Judd Robinson, who made 12 saves during the first two periods. The loss dropped the Lakers to 6-9 overall and 1-4 in the SUNYAC, while the Red Dragons improved to 12-2 overall and 5-0 in the league.
The Oswego State defense limited Cortland to just five shots in the first quarter with the lone Red Dragon goal coming from Mike Tota with 10:36 left on the clock. Tota finished the game with four goals and two assists for a six-point game. The Lakers evened the contest 15 seconds into the second quarter when senior attacker and co-captain Dan Scarazzo found sophomore attacker Andy Lever for his 21st goal of the season. However, Cortland scored three goals in the final seven minutes of the period to take a 4-1 lead at the half. The Red Dragons outshot the Lakers 22-13 in the first half in which there were no penalties called on either team.
The Red Dragons began to pull away in the third quarter when Brandon Misiaszek and Justin Battino scored in the first five minutes. Senior midfielder Nick Zoyhofski stopped the run after he intercepted a Cortland pass in the Oswego State defensive zone and ran the length of the field for an unassisted goal with 4:33 remaining in the period. However, the Red Dragons posted three more goals before the end of the frame for a 9-2 lead.
Cortland held a 13-2 lead before senior defenseman and co-captain Dan Wilcox moved up the right side of the field with the ball. Wilcox hit sophomore midfielder Brad Teal with a pass for the quick shot and goal to make the score 13-3. The Red Dragons tacked on two more goals to make the final score 15-3.
The Lakers struggled all game getting the ball out of their defensive zone. Oswego State had just nine clearing opportunities all game, converting on just four.
The Red Dragons fired 39 shots in the game compared to Oswego State's 24.
Robinson finished the game with 12 saves in 55:11 before senior goalie Zach Harris came into the contest for the final 4:49. Mike Kaminski and Bobby Whitmarsh combined to record seven saves for Cortland.
The Lakers failed to convert on any of their five extra-man opportunities while Cortland converted on one of their four opportunities.
The team currently sits in a last-place tie with SUNY Plattsburgh with one game remaining on their schedule.
The Lakers will travel to Plattsburgh for their final game of the regular season on Saturday, May 1.