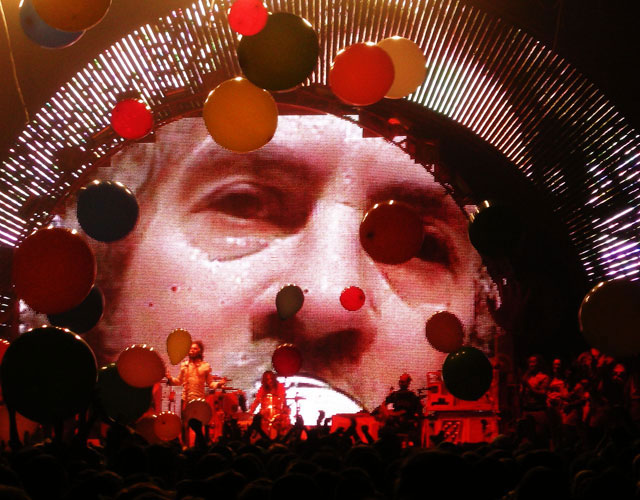 What a year for concerts it has been for upstate New York so far. Bands worth their hype like Passion Pit, Miike Snow, Dan Black (formerly of The Servant), El Ten Eleven, Phantogram, Neon Indian, FreezePop and Plushgun have been streaming steadily through the sometimes seemingly stagnant spring season of the New York Area; but perhaps the crowning achievement of all this excellent 2010 booking is The Flaming Lips' appearance at Cornell University on April 18.
Often times, bands are heralded as the best live act of the year and then they fade away, but The Flaming Lips have been steadily increasing the spectacle of their live performances for well over a decade. This is a band known to invite and incite the wild dancing of fans in furry animal costumes as well as cover themselves and the crowd with fake blood, glitter and streamers. With this in mind, their performance at Cornell University had a lot to live up to.
Opening for the Flaming Lips was a fellow band from Oklahoma City: White Dwarf, with whom the Lips recently recorded and released a complete cover of Pink Floyd's "Dark Side of the Moon." The limber men of White Dwarf played songs that ranged from slow-mo psyche rock freakouts to dance-rock excercises all while imagery of dyed cells and images of space synched to their songs played on a giant circular screen.
After the completion of White Dwarf's set, the crew for The Flaming Lips resumed their technical duties by setting up instruments and an assortment of set pieces. During this time, The Lips' frontman Wayne Coyne made his way around the stage to shoot streamers and throw confetti to roars from the enormous crowd. This blatant disregard for typical lead singer behavior (i.e. waiting until the fans are at a fever pitch before making an appearance) is another reason that he has the reputation of being the most amiable indie rock personality.
When The Flaming Lips' show did start, they began their show in the best way they could to illustrate the concept of their latest album "Embryonic." They did this by emerging from their giant circular projection screen of a woman's neon, pulsating genitals and moments later, singer Wayne Coyne emerged from her pupil in his famous man-sized hamster ball and thrilled the audience as he crowd-strolled over them.
The Lips played material from their new album like "She Can Be a Frog" from their latest album "Embryonic" before playing signature sing-a-longs like "She Don't Use Jelly," "Yoshimi Battles the Pink Robots" and "Yeah Yeah Yeah Song." One very interesting highlight of the show was on a new song "Powerless" where Wayne Coyne led the band through a thrilling guitar solo. The Lips ended their main set with a chaotic, almost tribal rendition of "Watching the Planets." For an encore, The Flaming Lips played a cover of "Eclipse" by Pink Floyd. Then the band pre-empted the last song of the night, a triumphant rendition of The Flaming Lip's most recognized song, "Do You Realize," with a sad note that a member of White Dwarf's father had recently passed away and the song had been played at his funeral. Given this, Wayne Coyne and company implored the crowd to really respond.
This kind, emotional weight that The Flaming Lips add to their music is what makes them a modern legend. Amid things like thousands of laser pointers, giant laser hands, giant circular LED screens and dancing catfish, the band has a heart that's equal to the spectacle.