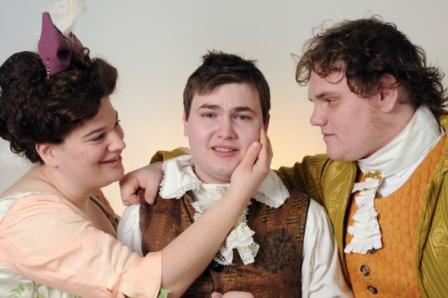 The cast and crew of Oswego State's theater department is preparing to bring the theatre season to a close with their latest production, "She Stoops to Conquer," by Oliver Goldsmith. The play begins with plans for an arranged marriage between Mr. Marlow (Nate Roy) and Kate Hardcastle (Jessica Quindlen). Marlow is convinced by Kate's brother, Tony Lumpkin (Charles Smith) that the Hardcastle's home is really an inn. The two have yet to meet, so Kate develops a ploy to discover the true personality of her fiance. While he is shy and bashful when she is herself, she dresses as a barmaid to see how Marlow acts around lower class women, which ultimately reveals his true personality.
The play also has a parallel story line that revolves around the coupling of Marlow's friend, Mr. Hastings (Nicholas Pike) with Hardcastle's cousin, Miss Neville (Ashlee Grant). Kate Hardcastle's stepmother, Mrs. Hardcastle (Sarah Sterling), adds a dimension of comedy to the show with her constant focus on climbing the social ladder. Similarly, Sir Charles Marlow (Josh Gadek), and Mr. Hardcastle, (Jeremy Waterman) add a certain aspect that makes this more than just a traditional story.
The play was first produced in 1773, but Mark Cole, director of the play and chair of the theater department, said despite that, the themes behind it are still relevant.
The cast and crew put a lot of effort into the play to make it perfect for the performances. Quindlen has been involved in six other productions at Oswego State and said that auditions for this particular play began in January.
Furthermore, rehearsals started immediately after "Songs for a New World" closed in March. The cast and crew have devoted about four hours a day, six days a week since then to practicing and preparing for the show.
Cole said the cast worked closely with adjunct member of the theatre faculty Joan Hart Willard to work on their dialects. Likewise, Quidlen said that one of the hardest parts about the play was trying to master deciphering the text. Since it was written in the 18th century, the language is a vital aspect of the play.
"This is the first heightened language production the department has done in several years. It also involved an entire cast using accents which has also not been done in a while," Quidlen said.
There will be a preview of the show in the Waterman Theatre on April 22 at 2 p.m. The performances will be on April 23 and 24, May 1 at 8 p.m., and May 2 at 2 p.m.