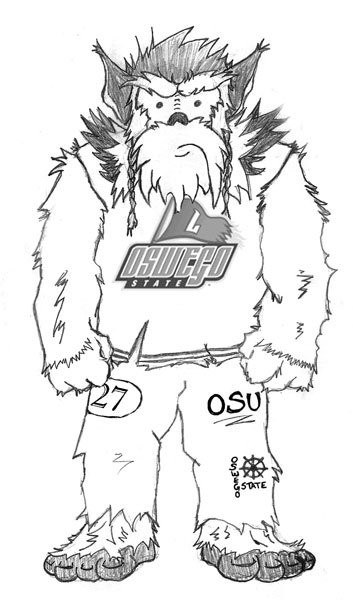 A lack of student involvement and participation has a student-led mission to get Oswego State a mascot on life support.
Greg Aiello, a senior at Oswego State has dedicated almost three years in an effort to find a mascot that can represent the students, alumni, faculty; everyone involved with this campus. Unfortunately, the student body has not shown enough interest in the issue.
"I'm not really sure all parties are that interested," said Dean of Student Affairs James Scharfenberger.
A small group started the search for an Oswego State Mascot, but the common goal now seems to be getting the students involved. There is a Facebook page called 'Mission: Get a Mascot for Oswego.' However, there are only 344 members for the group out of the over 8,000 students attending Oswego State. With more interest and active participation from students, Oswego could finally have a mascot to represent the hockey team, cross country team, lacrosse team and everyone who is a part of Oswego State.
"We need the enthusiasm and we need to talk to elected officials," said Jonathan McDonald, former Student Association director of athletic affairs. This mascot idea is not going to progress without the participation and support of students.
Although finding a mascot is not a pressing issue for Steven DiMarzo, president of Student Association showed plenty of interest in the topic.
"We need to figure out what a laker is, before we start creating it," DiMarzo said.
There have been a few discussions on the Facebook page, one of them being about the definition of a laker. Ideas for a mascots including a sailor, green man, pirate and several others.
The disadvantage that Oswego State faces is determing what a Laker is to the campus community. The ambiguous nature of the word 'Laker' leaves many different interpretations among faculty, students and administrators. Finding a middle-ground may still be the biggest hurdle.
"There is an importance in the fact that we need people to get involved again," DiMarzo said.
Deciding on a mascot is going to take time.
"Our goal is to develop a path to resolve the situation, and get a sense of feeling about what the students want," Scharfenberger said.
Aiello was abroad for a few months this semester and unfortunately, progress slowed with his absence. He had hoped that other students would take the initiative to proceed with the project, but this did not happen. Despite the small pause, Aiello is back on track and ready to continue the search. He met with Scharfenberger last week to get the project moving once again.
Aiello is a senior and is hoping that another student will step up and continue the process of bringing a mascot to Oswego State.
"I won't let it die," Aiello said.
Students that are interested in the search for a mascot for Oswego State can visit the Facebook page, where they can share ideas with for Aiello.
"A lot of people ask me what's going on with the mascot, but what I have to ask the students is, what are you doing for the mascot," Aiello said.