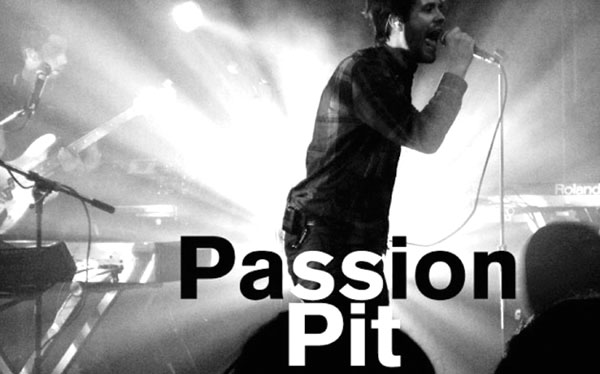 Passion Pit, a band known for their sunny, helium-filled synth-pop, came onto the scene with a vengeance last year with their debut album "Manners" which garnered a four star review from "Rolling Stone" magazine and a deal to use their breakout single "Sleepyhead" to promote the Palm Pixi smartphone. The quintet consisting of singer/songwriter Michael Angelakos, keyboardists Ian Hultquist and Ayad Al Adhamy, bassist Jeff Apruzzese and drummer Nate Donmoyer play bittersweet songs about rotting orange peels and scars as well as true love that lasts forever.
Their concert originally planned for the Town Ballroom in Buffalo was moved to the Rapids Theatre on Main Street Niagara Falls. Whoever came up with this idea to move the concert deserves a high five. Not only was I able to avoid anything even remotely resembling city traffic, but I was also able to enjoy many touristy attractions like aquariums, wax museums, and the Hard Rock Cafe while waiting for the concert to begin.
When that hour did arrive, I found that the Rapids Theatre was considerably more than a hole in the wall and had a very nice decorative domed ceiling.
The first band to play in the theatre was Brooklyn's Bear Hands who combined influences from both punk and dance music and sounded akin to bands like Les Savy Fav and Gang of Four. The best thing about their performance was definitely the heavily processed guitar licks, while the not-so-best thing about their music was that the aggressiveness of the singing seemed directly opposed to the danceable grooves presented in their music.
The next band to take the stage was Detroit's Mayer Hawthorne. I wasn't sure what to expect from the band, having previewed the group's Motown revivalist music on their Myspace page, but upon seeing their explosive energy in person, I was won over. They opened with a song sung in perfectly pitched three-part harmony before it exploded into old-school soul energy. Everyone in the group had dress shirts and ties as well as an infectious smile on their face through the whole set, save for the solemn lead guitarist who looked like a combination of David Bowie and Dracula with his collar popped.
Whipping through fast numbers, like a rambunctious cover of ELO's "Mr. Blue Sky," and slow numbers from the band's debut album "A Strange Arrangement" that singer Mayer Hawthorne referred to as "baby making music." The band excelled in crowd interaction, inciting the audience to sing along to scat words in their own songs as well as to Biz Markie's "Just a Friend."
After a 40-minute break, the sound technicians finally cleared the stage and the square LED screens positioned around the stage flickered to life, first by making a single box, then radiating outward until all the panels were lit up. Then Passion Pit roared into action playing "Make Light" and "I've Got Your Number" to enough flashing lights to erase your memory "Men In Black" style. This is probably why their light system crashed right after the number.
Angelakos apologized profusely and explained that all of their equipment was rented because their gear was somewhere over the Atlantic while the crew came out and fixed the lights. When all was good again, the band roared through tracks from their "Chunk of Change" EP like "Smile Upon Me." During the show Angelakos expressed that he had wanted to come to his hometown during the tour and added the date in Niagara Falls especially so that his parents could come out to see him perform. He then waved to them in the balcony. Angelakos and company then played some exuberant renditions of hits from their debut album "Manners" like "The Reeling," "Folds in Your Hands," and "Moth's Wings." All throughout the concert the crowd sang all the parts on the album that had been sung by a children's choir. The band ended the show with the infectiously groove-tacular track "Little Secrets" and left the stage.
Before too long, the band returned and played several encore songs, which included a special cover that Angelakos' parents requested that is going to be released on the deluxe edition of "Manners" in April: The Cranberries' "Dreams." Having held back their signature track all night, Passion Pit finally unleashed "Sleepyhead" to an ecstatic crowd and brought the night to a close. Despite some technical difficulties, Passion Pit proved that their performances are worth every penny.