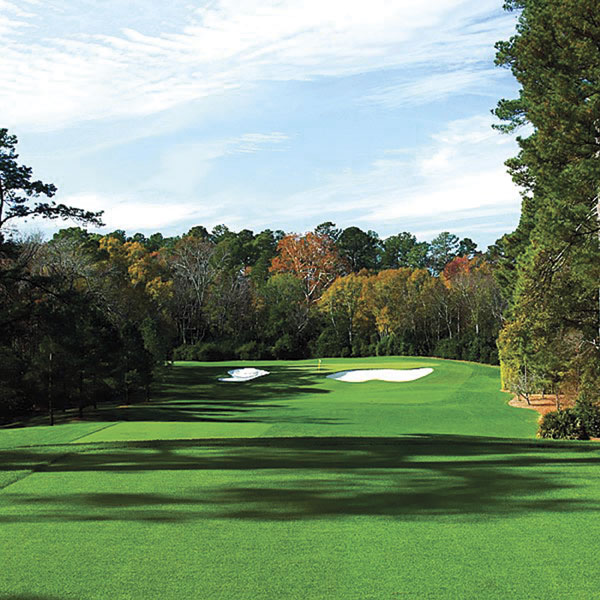 There's nothing quite like a quiet day out on the greens.
The evergreen scenery, picture-perfect landscape with a breathtaking view of all Mother Nature has to offer. A lazy Sunday at say, Augusta National Golf Club in Georgia, with a few friends is the closest I can ever hope to get to pure happiness in life. But sadly, there are some who are still banned from this famed course.
Just call Augusta the "He-Man Woman Haters Club." Or, rather, the "Little Rascals with Big Wallets." Whatever you label them, they don't care. They are still adamant about not allowing women on their famed golf course.
The club is notorious for being exceedingly exclusive. You don't apply for a membership at Augusta. They find you. The club's more influential members go by the names Gates, Buffett and Welch. Founded in 1933, the course's 7,435 yards of pure, unadulterated lush must resemble the day God created the Earth. And by the looks of it, he might return every day to water the greens and manicure the fairways himself.
But there's one thing inauspiciously missing from the course. They still have yet to harbor a single woman member.
"Our membership alone decides our membership — not any outside group with its own agenda," previous chairman William "Hootie" Johnson told Golf Today in an attempt to quell public outcry over club policy.
Women aren't the first group to feel left out, either. Augusta welcomed their first African-American member in 1990 due to increasing social pressure. So it's no secret that Augusta National is behind the curve as far as ethics and fairness is concerned.
And now, as they open the doors to the public, all will seem well at Augusta National.
Women will stroll around the premises in awe of their favorite golfers and catch a glimpse into Eden. Cameras will depict an open and public sphere in which everyone, equally, is allowed to enjoy the spectacle that is the Masters tournament. But when the circus leaves town, so will the public perception of an intricately private setting. Augusta in its true form. Lavish greens powerfully overridden with blatant sexism.
It's no secret that Tiger Woods will be the focal point of the tournament because of his off-course antics involving women. But who's more engaged in degrading women? Who should we really be putting media scrutiny on? A man hopelessly derailed from his status as perfect, or a club unwilling to conform to modern ethical standards?
I get that it's a private club and they can make their own membership laws. But there are simply no acceptable reasons to ban women from any golf course. There are plenty of successful women golfers. Some, including Annika Sorenstam have even played on the men's PGA Tour. So if they are good enough to play with the big boys, why can't they get a membership at one of the most symbolic golf courses in America?
The answer, sadly, lies in a nearly century-long Augusta tradition wrapped in sexism and exclusion, unbound by any public social or ethical code of conduct. Perennially placed on an ever-growing waiting list a mile long and written in invisible ink.