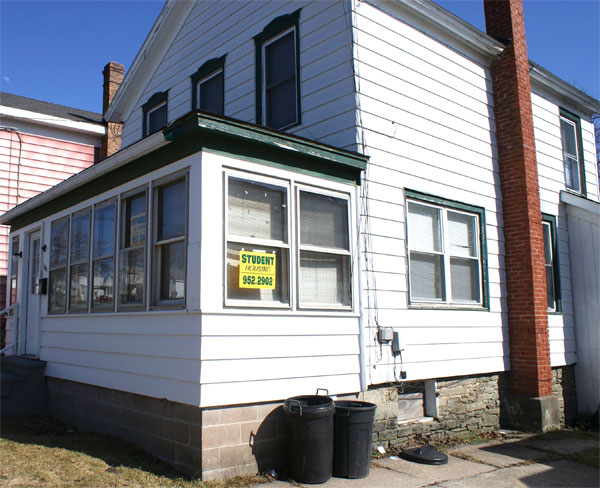 Oswego State students are jumping at the opportunity to move off-campus after their sophomore year to acquire a real taste of living on their own.
Cheaper living expenses, personal privacy and less supervision are some reasons why students are eager to move into their own places.
Letizia Knapp, Student Association's director of off-campus living, makes it her responsibility to help with the transition from on-campus to off-campus living.
"I believe that students move off-campus for many reasons," Knapp said. "I have heard that it was for the privacy, independence, quietness and cost."
The freedom and responsibility factors also play a part in students' decisions. "Broadening your horizons is all about the college experience," Knapp said.
Christina Ballesteros, president of S.A., said that students are in search of new living arrangements that provide greater personal freedoms that may not be offered while living in dormitories, like having a place to come back to year-round.
"Students living off-campus have a place five extra months of the year compared to living on-campus when they are excluded from the residence halls during breaks," Ballesteros said. "They are able to visit Oswego during the summer when events like Harborfest are in town. It makes it easier when they don't need to search for a place to stay."
Many students are also looking to save money by moving off-campus. Residents pay nearly $10,000 for room and board for an academic year, according to Institutional Research at Oswego State. Marie Shuman, associate director of Residence Life and Housing, estimates students save close to $2,000 by paying off-campus rent.
"It seems like an obvious decision to move off-campus next year because I will be saving a lot of money that I can use to pay for extras like utilities," said Kyle McGrath, a sophomore at Oswego State currently living on-campus in Oneida Hall.
On the other hand, many students feel that the convenience of living on-campus outweighs the positive aspects of off-campus living. Out of about 9,000 students that attend Oswego State, 58 percent choose to live on-campus, according to Institutional Research at Oswego State.
"[Students] live on-campus just because it's more convenient; it's kind of an all-in-one. All of the services are provided and it's close to everything on-campus," Shuman said. "It starts with the housing requirement, because we do require new freshmen to live on-campus their first two years. We feel it's important for them to be right here, in order to meet people, to get connected and to get immersed in the college environment."
According to Residence Life and Housing, freshmen and sophomores are required to live on-campus for two full academic years unless they are over the age of 21 or are married. Transfer students are also required to live on-campus for a year if they come in during the fall semester and one semester if they transfer in the spring.
Oswego State has seen an increase in upperclassman living on-campus recently with the opening of The Village and Sheldon Hall, which offer more of an off-campus experience, Shuman said. The Village will only be offered to upperclassmen who have earned at least 45 credit hours. The apartments will be occupied by groups of four or six students and will include kitchens located right in the suite of the building so that students who opt out of a meal plan can cook their own food.
S.A. tries to help with student needs and rights to make sure students get the full college experience. They help students find off-campus living by providing them with information of available locations of houses and apartments in the Oswego area.
"I run a Making the Move college hour, Meet Oswego Landlords event and an Omega housing fair every semester just to [provide students with information about moving off-campus]," Knapp said. "The Making the Move is an informative event that provides information on house hunting, leases, bus information, tenants rights, and one-on-on question and answer sessions with students that currently live off-campus."
"I found my apartment for next semester through the Student Association site," McGrath said. "They provided me with a link that gave me a list of over 35 landlords renting many properties right in Oswego, some very close to campus, and now I can't wait to make the move to off-campus living."