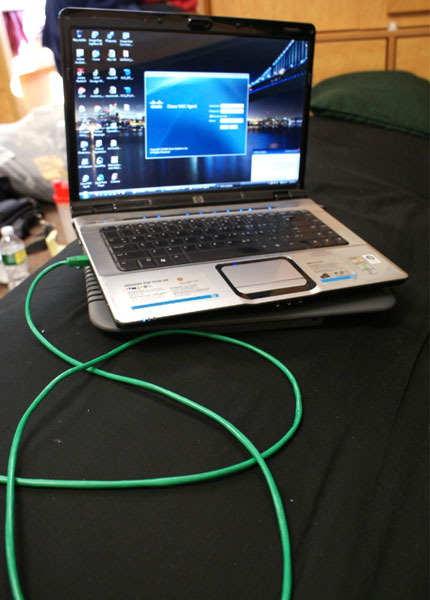 Campus Technology Services has completed the planning stages of implementing wireless internet in all dorms and have set a fall 2013 deadline to implement it across campus. Hart is now fully wireless while Johnson and Riggs will become wireless over the summer. The townhouses will also be wireless when they open in the fall.
"The remaining dorms will be equipped with wireless at a rate of two or three buildings per summer during 2011, 2012, and 2013," Chief Technology Officer of Campus Technology Services Joseph Moreau said.
"We are in the design stage with the engineering portion of the project," Moreau said. "We currently need to reengineer the wired infrastructure in eight of the 11 residence halls to support the wireless infrastructure."
The use of the Ethernet cables was a burden for many and wireless was the best decision to make students and faculty in Hart Hall feel comfortable.
Hart Hall residents are satisfied with the upgrade with no issues concerning the wireless.
"The wireless is amazing and I never feel as if I am stranded in my room to work on different projects," sophomore Hart Hall resident Renee Sterling said. "I have the choice of moving around which makes it very convenient."
"So far the feedback on the wireless in Hart Hall has been positive," Residence Director of Hart Hall Nina Monte said. "I have not had any student come to my desk or me complaining, though I can not speak for any calls going into CTS."
There are no longer worries about broken ports or having one computer/laptop connected in a room at a time.
"I think that wireless in the dorms is a great idea because it makes computer access around the room more accessible," senior Hart Hall resident Wanda Sanchez said. "It's very comfortable to use my laptop while sitting on my bed and not have to worry about being attached to a long cable."
"I was happy to hear that we would finally be making the move to a wireless campus," Monte said. "The Ethernet cables were a bit inconvenient and really limited the places we could use our laptops throughout the building."
"The only concern I had was when it came to residents using the Internet during IST programs, but that problem has been very minimal," Monte said. "We address it on a case by case basis and our students are typically very receptive to our requests.
"I do see students using the Internet on the first floor and coming out of their rooms more to do work now that they have more access," Monte said. "I am also enjoying it immensely, especially in my apartment. It makes my work life easier overall."
Due to massive construction during wireless installations, the work cannot be done during the academic year.
"The work really cannot be done during the school year and it would be very disruptive to students," Moreau said. "Above and beyond wiring and the installation of wireless access points, there is quite a bit of construction work that needs to be done."