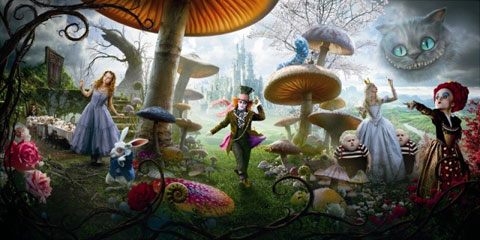 "Alice in Wonderland" pops to life in 3-D as a Tim Burton, director, adventure loosely based on the works of 19th century author Lewis Carroll.
It begins with a flashback of young Alice having strange nightmares where rabbits wore suits and animals could talk. The scene then snaps back to the present where Alice, played by Mia Wasikowska ("Amelia"), has grown into a young, somewhat rebellious lady being forced into attending her own engagement party.
After refusing the hand of her groom-to-be, Alice followed a clothed white rabbit straight into his hole and, unsuspectingly, stumbled upon Underland, Burton's version of Wonderland. Here she runs into characters straight from her dreams and learns that she is destined to defeat the grand creature summoned by the Red Queen, played by Helena Bonham Carter ("Harry Potter and the Half-Blood Prince").
Despite some disdain for Burton's interest in producing and directing dark movies and casting the same actors and actresses to play key characters in his films, including Johnny Depp (who plays the Mad Hatter) and Carter, his interpretation of "Alice in Wonderland" is anything but a disappointment. While the actors and actresses are repetitive, the brilliance brought by them to the screen is nothing to scoff at. There is barely any resemblance to past roles of Depp and Carter, who seem to slip effortlessly into every role they are assigned.
The camera work, not surprisingly, moved smoothly throughout the movie and viewers could easily follow the story's flow. The graphics were stunning and breathtaking and Underland would have felt realistic even without the 3-D glasses. The actors and actresses worked beautifully with the animated creatures and nothing seemed out of place.
The contrast between light and dark was another brilliant aspect. The good and evil of Underland were displayed plainly. The Red Queen tried to keep her evil bloody reign over Uonderland with the belief that being feared is superior to being loved. Her foe, the White Queen (played by Anne Hathaway, "The Princess Diaries"), struggled to restore peace to Underland, however, she can't harm the Red Queen because it violates her vow to never bring pain to a living creature.
"Alice in Wonderland" is an amazing and wonderful adventure. It's not only fun, but captivating. So why wait? Come and fall down the rabbit hole and defy space, time and even sanity