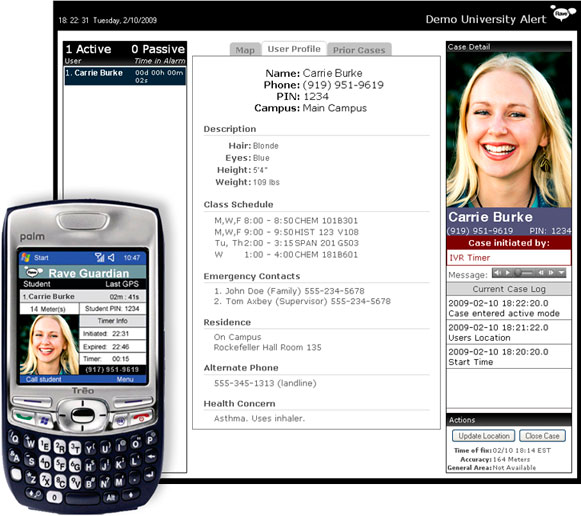 The Rave Guardian program is receiving a second look as data shows that as few as 300 to 500 students may be utilizing the safety initiative, which replaced the campus's iconic blue lights.
According to Oswego State University Police (UP) the system is costing $15,000. That would mean the campus could be spending as much as $50 per student enrolled. Oswego State is the first university in this area to use the system.
According to University Police Chief Cynthia Adam, Oswego State is always looking at ways to enhance the use of technology for student's safety. Ninety-five percent of students have cell phones and are capable of using the Rave Guardian service. Unfortunately, not many students are taking advantage of this service.
"One of the problems that we have is getting students registered," Adam said. U.P. is looking to increase the number of enrolled students significantly.
The Blue Light System has been present on Oswego State's campus for a while, but Rave Guardian takes the old fashion technology of the fixed stationed blue light and uses GPS to turn cell phones into mobile Blue Light Systems.
If a student feels threatened or uncomfortable walking back to campus at night, they can set a timer on their phone through Rave Alert. If they do not get to their destination in the time that was set, U.P. will be notified and will call the student to assure that they have made it to their destination safely. If an emergency occurs, a call to the Rave Guardian service at U.P. will allow quicker deployment of services.
Howard University, in Washington D.C., has also taken advantage of Rave Guardian and Rave Alert. According to Chief Leroy James of Howard University Police Department, crime has decreased by 70 percent in the past year and he feels much of the decrease is due to the recently installed Rave Guardian service on campus.
According to Chief Adam, there have been no real emergencies using Rave Guardian on campus this year, but she feels it is more of a preventative system that gives students peace of mind.
Rave Guardian is free for students, staff and faculty. The charge for the college to offer this system is $15,000 for a one-year subscription. The system is set up in the front office of U.P. in Pathfinder with monitors that show a caller's location using Google GPS as well as the callers profile that is setup through the Rave Guardian system.
Unfortunately, at this time Verizon does not offer the live GPS system like AT&T and Sprint, but students with Verizon can still sign up for the service. Verizon will offer live GPS in a couple of months.
"We were concerned that students might be thinking that this is a way for the police to track their whereabouts, but this system does not work like that," Adam said. The only time U.P. can view student's location and profile, is when a student calls from their cell phone. All profile information is kept secure through Rave Guardian.
Interested students, faculty and staff can sign up for a Rave Guardian profile at myoswego.edu. For more information about Rave Guardian, visit www.ravewireless.com.