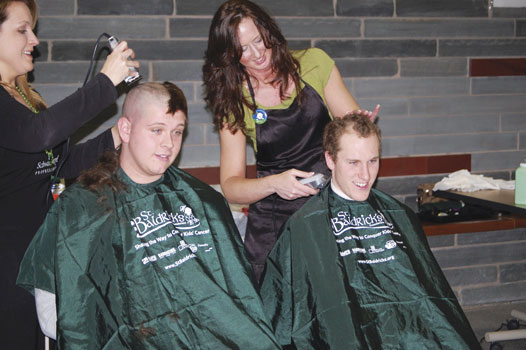 The Oswego State men's lacrosse team had a large turnout for their fourth annual St. Baldrick's fundraiser. Children, parents, players and coaches from the Oswego area came together to raise money for pediatric cancer research.
The entire team, including head coach Dan Witmer, shaved their heads for the cause. The overall count at the end of the night was over 70 individuals with shaved heads.
All of the players seemed to have a good time and didn't seem to miss their hair.
"I had a lot of hair and needed it cut," captain Dan Wilcox said. "The helmets are [not] going to fit as well in practice tomorrow though."
Not everyone is as ready as Wilcox was though.
"I think it really hits them when they see the women and the kids getting their heads shaved," Witmer said.
The team was more than pleased with the turnout.
"This was the largest crowd we have had in the four years of doing this," Wilcox said.
Witmer was happy with the new scenery too. It was the first time the team did the fundraiser in the Campus Center Food Court. He said he was happy because the new area can accommodate more people, which they needed this year.
Previously, Witmer had mentioned that his goal was around $18,000, but understood the economy was hard for people. It looked as if the economy had no bearing on the size of their hearts, however. The team went above and beyond their goal, raising over $20,000 for the foundation. This puts their four-year total at over $63,000 in revenue for St. Baldricks.