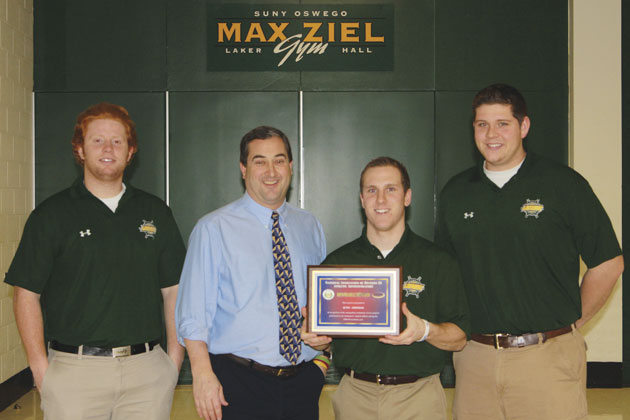 The Oswego State men's lacrosse team has received honorable mention recognition for the Jostens/National Association Division III Athletic Administrators (NADIIIAA) Community Service Award in the category of an array of projects/activities completed during the 2008-09 academic year recently announced by NADIIIAA Awards Committee Chair Gary Karner.
Oswego State was one of only 17 NCAA Division III institutions to be honored of the more than 450 Division III institutions from around the nation that were eligible for the community service awards in three separate categories.
The men's lacrosse program took part in numerous community service projects, including the Green/Gold/Pink intra-squad game that supports breast cancer research, the St. Baldrick's Foundation head-shaving fundraiser to support childhood cancer research, and participating in Sarah's Walk to raise funds for platelet disorder research. Participation rates from the team range from four to 58 in the six events held during the 2008-09 academic year.
NADIIIAA is an association comprised of athletics administrators from NCAA Division III institutions around the country. A primary purpose of the NADIIIAA is to encourage the continued development of athletics programs focused on the student-athlete and based on sound educational philosophy.