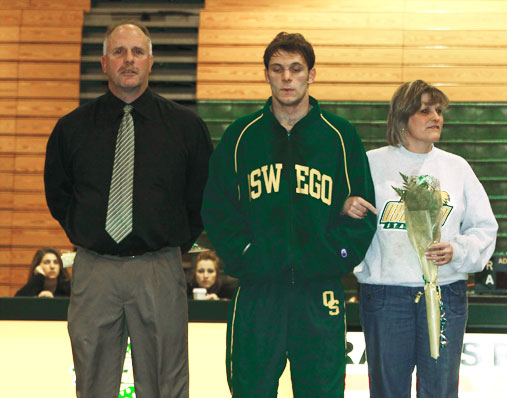 Sports aren't just for fun. They can teach life lessons about discipline, commitment and community involvement. Wrestling isn't just a sport for Oswego State senior Mike Howard Jr. He grew up in Oswego, where wrestling was a way of life that brought his family together.
"It's a family thing," Howard Jr. said. "My grandfathers on both sides of the family are in the National Hall of Fame. I had a lot of uncles in wrestling. I grew up around it. It's something around the house, so I fell right into it."
Howard started wrestling briefly in grade school for three weeks and then picked up the sport more religiously in seventh grade with the middle school program. However, it all began when he started crawling on the wrestling mats at Oswego State at age two. His father, Mike Howard Sr., has been at the helm of the Laker program for 22 years.
"He's been around it," Howard Sr. said. "He'd come to practices and matches when he was little. It was always part of his life."
Howard Jr. increased his dedication to the sport in eighth grade when he stopped playing hockey and focused specifically on wrestling. His efforts showed as he wrestled at the junior varsity level as an eighth grader.
As a senior, Howard Jr. was in the gritty 145 pound weight class. He had an astounding record of 47-2, with his only two losses coming to the third place finisher in the state tournament, as well as the state champion for small schools. Howard Jr. finished his high school career with 111 wins, which put him in the top five on Oswego High School's all-time wins list. His uncles Shawn and Brian rank first and second on the wins list, respectively. Brian was a New York state champion for the Buccaneers.
Howard Sr. also wrestled for the Bucs during his high school days. He became the first Oswego High School grappler to capture a Section III individual title. At that time his wife's father, (Howard Jr.'s grandpa Akley) coached from the mid 1970s until 1992. At the same time, grandpa Howard was coaching for the Lakers prior to Mike Howard Sr.'s current tutelage.
The Howard family's lives revolved around wrestling. Howard Jr's younger brother wrestled for two years before choosing hockey and his younger sister even gave wrestling a shot.
"She did try it, but it was a little bit too much for her," Howard Sr. said. "It's a very physically demanding sport. She's excelled in some other sports and we're proud of her."
"She was always competitive, always there wrestling around with my brother and I," Howard Jr. said. "She's competitive just like us. It's a big thing in the family."
The family love for the sport extends to Howard Sr.'s wife, Su-Ann. She helps out at all of the wrestling matches and tournaments, making sure there is plenty of food and that everything runs smoothly. She even prepares meals for the team.
"During winter session there's usually not meals on Sunday [at the dinning hall]," Howard Jr. said. "We'll have a huge feast out at my house. It's really nice. It brings the whole closeness of the team together."
Wrestling has allowed the Howard family to bond. That was a big reason that led to Howard Jr. attending Oswego State, to be close to family and wrestle for his dad.
"It's been a really close family core, having them all be around here," Howard Jr. said. "I think having the support, having them come to every match; the first three years I think my whole family was here. I think having the grandparents, the family and relatives be here is a huge reason why I stayed close to home."
Through the sport of wrestling, Howard Jr. has also learned how to commit himself to grit, determination and hard work.
"The morals you learn from it," he said. "'Wow I was 12 pounds overweight the night before the match.' I knew what my job was for the team, that I had to cut (the weight), and I did it for the team. You gain character. You don't wrestle at the collegiate level for fun. It's about the challenge."
Howard Jr. has taken that challenge and met it head on. This year he is a co-captain for the Lakers, just as his father was during his years on the mat at Oswego State. During his Oswego State career he has amassed a 39-38 record at the 149 pound weight class. He has been a two-time sixth and fifth place finisher at the RIT Invitational.
Howard Jr. is an adolescent education major with a concentration in social studies. His father also graduated from Oswego State with a social studies degree. They both share the same name. That has caused some confusion at times within the Oswego State community, but the two seem to enjoy it.
"Originally they had me going to school here, and they had me signed up for orientation," Howard Sr. said. "'I'm like 'I'm not going to orientation,'" he said jokingly.
"It's cool having the same name," Howard Jr. said. "It's funny with a recruit because they're like, 'You're staying with Michael Howard, and the recruit is like, 'Isn't that the coach?'"
The demands of wrestling can be strenuous enough, but Howard Jr. has tremendously found a way to balance both academics and athletics. Last year he was named an NCAA Division III Wrestling Scholar All-American. The requirements for this feat include a 60 percent winning percentage as well as two consecutive semesters maintaining at least a 3.3 GPA.
"That was one of the main accomplishments of my college career, managing academics and wrestling," he said. "Managing time. You're here some days for five or six hours, cutting weight, lifting weights."
"All throughout his career he was good about staying up on the academics," Howard Sr. said. "He really has that discipline and I'm very proud of him. When you can be successful in the classroom and athletics it really says a lot about you as a person."
That discipline starts with his parents, who can often be seen out in the community giving a lending hand. Howard Sr. believes athletics has helped his family and kids grow up to understand the importance of discipline and commitment. The Howards are often seen at athletic events supporting the local community.
"That's the kind of family we are," Howard Sr. said. "We'll help out. I'm president of the local high school boosters organization. Giving back to the community and trying to help the kids at the high school level have a good experience with their athletics. We're cooking hot dogs at football games, we're announcing at lacrosse games, running clocks; whatever it takes for people to enjoy athletics. It's just something that's in our blood, and we enjoy it."