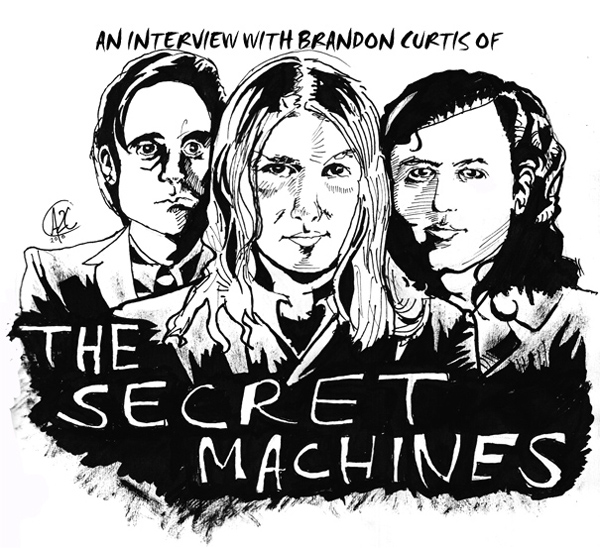 I recently had the chance to interview singer Brandon Curtis of The Secret Machines. I discussed his new single, "Like I Can," as well as the state of things at TSM headquarters and the status of the group's facial hair.
Q: With the release of your last album, "Secret Machines," you said that the process was invigorating because it was like recording a debut album all over again because you worked with new guitarist Phil Karnats. How do you think your relationship as a band has changed now that the 2008 "Secret Machines"album has been out and you are now recording another album?
A: After having played together for awhile I think we have reached a new comfort level.This new level of familiaritywith one another has allowed a little more breathing room in the recording process. Which, I suppose, is why this record is taking so long for us to record. I believe we have sighted new ground and we are in the process of discovery.
Q: Is this experience comparable to recording your sophomore album "Ten Silver Drops"?
A: Not really, "TSD" was recorded in a big studio, mixed by a famous mixer, released by a major label. This time we have recorded ourselves in our own homes, engineered and produced by us. Quite a bit different experience, actually.
Q: Having worked with Benjamin [Curtis, Brandon's brother and former guitar player for The Secret Machines] and now Phil [The new full time guitarist for The Secret Machines] in the band as guitarists, how are they different as guitar players?
A: Well, they are both amazing guitarists and are two of my closest friends. But they are as different as night and day. Couldn't really be more specific.
Q: The sonic experimentation on "Secret Machines" [TSM's third album] particularly on "The Walls are Starting to Crack" was mind-blowing. Can we expect more of these psychedelic centerpieces on the new album?
A: Of course. I think what I have envisioned for the next record is the same sort of sonic textures but instead of the free floating nature of "The Walls," I want to infuse that ambience into a more recognizablestructure.
Q: Are there any overarching themes that you want to explore on the new album?
A: Doubt, anxiety, separation, loneliness, fear. The normal stuff.
Q: There are some great string flourishes on your new single, "Like I Can." Will there be string arrangements on other songs on the new album?
A: The strings for "Like I Can" were arranged by the great Tony Visconti. It is a pleasure to work with him on that. A real legend and a true gentleman. As for the next record, there are no strings planned as of yet.
Q: Any word on the title of the new album?
A: The working title is "The Secret Machines, the Lizard and the Moth."
Q: Your album art for the single "Like I Can" is vibrant and fractured. Is there any special symbolic meaning behind it?
A: The art was done by George Salisbury, and of course, it is a visual representation of the sonic vibrations of the song "Like I Can."
Q: Any favorite love songs (or maybe anti-love?) worth mentioning now that we're approaching Valentine's day?
A: I think my Valentine's song would be "Celebrity Lifestyle" by the Swans.