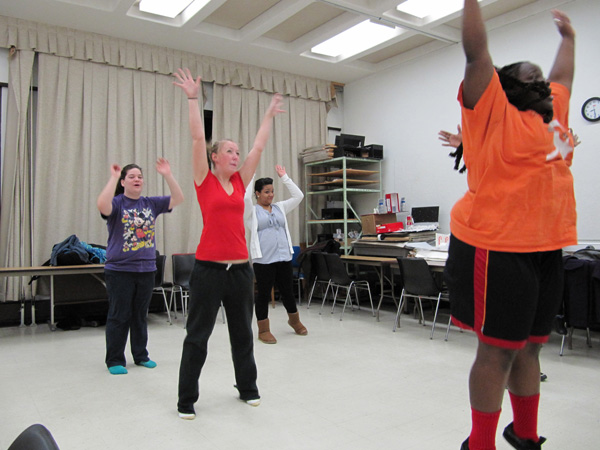 Natifa Adolphus always had a passion for theatre. Last year, she was in the Oswego State Theatre Department's production of "The Torch Bearers." Though Adolphus enjoyed the experience, part of her felt out of place since she was the only African-American student in the play. It seemed to her the shows produced by the school represent only a part of students passionate for theatre. Adolphus said that she felt as if Oswego State's theatre opportunities were limited and do not allow everyone to be seen or represented.
Adolphus was not the only one who has felt this way. Sophomore Christopher Walker, junior Alagia Conwell and senior Jalisa Ward share similar experiences. They want to not only incorporate a wider array of people into theatre productions, but to perform culturally enriched shows.
Together, they formed "Deeper than Theatre," a new multi-cultural theatre club.Though they are not officially a Student Association club yet, they are currently in the process of writing their constitution.
According to Conwell, "[The club] is dedicated to raising consciousness for groups whose viewpoints were overlooked and/or marginalized by the mainstream theater on the SUNY Oswego campus."
These students are trying to create a club that mixes historical culture and stories world-wide, as well as in the community. They wish to give marginal and unrepresented people a chance to speak. Walker said their ultimate goal is to help unite the campus by expanding theatre to all students, and opening their eyes to cultures and lifestyles different to their own.
"What we're trying to fight against is close-mindedness," he said.
On Feb. 28, Blackfriars and Deeper than Theatre will collaborate to put on a performance called "Multi-cultural Theatre 101" at 7 p.m. in the Campus Center auditorium. Their performance will not only promote the club, but explain many of the group's goals. The structure will consist of several different monologues with characters representing a person that the club is trying to reach out to.
When their constitution officially passes, making them an S.A. organization, Adolphus says the group will hold its first meeting, which will explore multi-culturalism and work on getting the message out to the community. From there, they hope to expand and grow as a group.