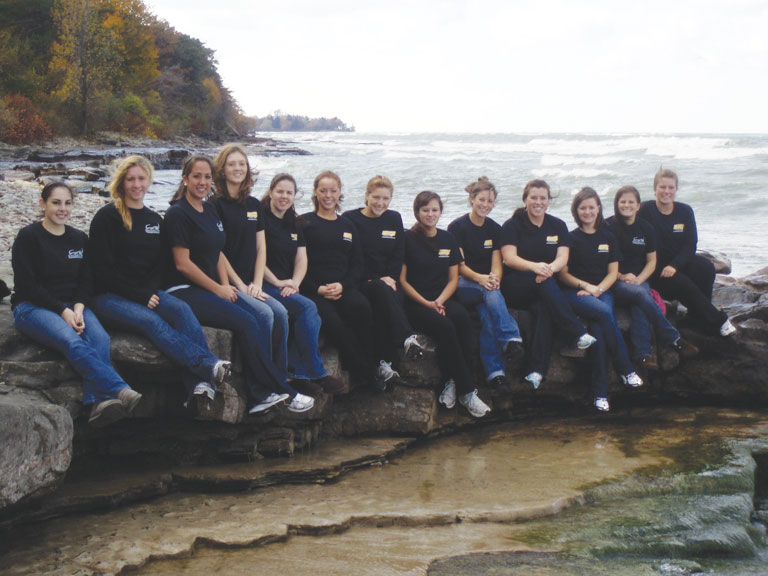 Elegance. Grace. Poise. Determination. These words can all be used to describe the Oswego State synchronized skating team, the Ice Effects, who qualified for the 2010 U.S. Synchronized Figure Skating Championship from March 4-6 in Minneapolis, Minn.
The Ice Effects qualified in the top six at the Eastern Championships on Jan. 30, in Lowell, Mass. to qualify for their second consecutive appearance at Nationals. During the 2008-09 season, the Ice Effects qualified for Nationals in their first year of being a collegiate team.
"It's a huge adrenaline rush," said sophomore skater and Treasurer Sarah Goobic. "Everyone gets really nervous right before we get on the ice, but once we get on the ice, we get all excited and happy."
Prior to last season, the Ice Effects were an open-collegiate team, meaning that they couldn't qualify for Nationals. The Eastern Sectional Championships is the most prestigious competition that an open-collegiate team can compete in.
Following a first place finish at Eastern Sectional Championships in Richmond, Va. in 2008, the Ice Effects voted to move up the ranks and become a collegiate level team. However, a team cannot simply say that they are moving up to the collegiate level; they have to qualify. In order for a team to become a collegiate level team, they must pass the juvenile moves in the field test. The field test consists of testing the team's footwork while skating on the ice. The juvenile field test is the fourth level in an eight level field test. The eight field tests are: free-preliminary, preliminary, pre-juvenile, juvenile, intermediate, novice, junior and senior.
"Winning Easterns was a big accomplishment," junior Lindsay Brown said. "We wanted to put ourselves in a bigger competition and push ourselves to the limit. Therefore, we decided to compete at the collegiate level and basically see if our team could handle the pressure and do well."
There are notable differences between an open-collegiate team and a collegiate team. An open-collegiate team is allowed to have a maximum of 12 skaters in their routine. A collegiate team is allowed to have between 12 and 20 skaters in their routine. Another difference between open-collegiate and collegiate is that collegiate requires a longer skating routine and one with greater difficulty. This year's routine is four minutes and nine seconds in length; it's a routine that they have been practicing all year.
"Confidence plays a big part," Brown said. "You have to be confident in yourself first before putting it into a team effort."
Despite being a collegiate level team, the Ice Effects still face major hurdles. Having to share the ice with the men's and women's ice hockey teams, the Ice Effects are only able to practice around five hours a week on the ice. They also spend an additional hour a week practicing off the ice, which includes discussing changes in the routine. Also adding to their troubles is the Student Association, who determines the team's budget for the year. The team is in charge of writing their own budget for the year, which they bring to S.A., who determines the actual budget. Last year, the team asked for $27,000, but S.A. only granted them around $11,000. The team believes that the school's unfamiliarity with the synchronized ice skating program is the cause.
"The people of S.A. and people around the school are learning about and recognizing us more, but it's a really slow process," Goobic said.
"You still get that look of 'there's a synchronized skating team on campus?'" freshman Kayliegh Marko said.
The recent success had led to the team receiving more notice by students and the staff, but they are still forced to raise money through fundraisers like car washes and 50/50 raffles to earn as much extra money as possible. When the team qualified for Nationals last season, they had until midnight of that day to make flight arrangements and hotel reservations without even knowing if their budget would cover the costs. Unlike the men's hockey team or any other sports team on campus, the Ice Effects are self-run. They are responsible for scheduling ice time, paying hotel and flight bills and scheduling performances at other sporting events. This year, the Ice Effects have performed during a club hockey game and a few varsity hockey games.
"We try to get people to come watch us," senior Renelle Garlach said. "We want them to know that we're putting a lot of hard work into it. People hear that we're on a team, but they don't get the chance to see us. All of our competitions are away so we try to host open practice so people can come see what we're about."
The skaters aren't the only members of the team that have shown their dedication. The coaches, Marie Shuman and Melissa Manwaring, are volunteers and do not get paid for their efforts of success.
"They do it out of heart," Garlach said. "They care about this team and they care about us. They want us to do the best that we can do so we put ourselves out there to do the best we can do for them."
At Oswego State, the ice skating team is considered a club sport, where as at other universities, like Syracuse University and Boston College, it is a varsity sport. Being a varsity sport gives these skating teams a preparation advantage over the schools where it is only a club sport, which is something the Ice Effects keep in the back of their minds when at competitions.
"I think one of the biggest differences is, for us, we face more challenges than other sports because we're only a club sport here where at other schools they are a varsity sport," junior Kelly LaBella said. "They get more ice time and funding. When we face those teams it's stuck in the back of our minds that they get more ice time and more funding, where we have those challenges."
"There probably are teams that are on the ice every day, where we are practicing two nights a week," Goobic said. "That puts us at a disadvantage, but still every year we grow as a team and we're getting better."
Chemistry plays a large part in the Ice Effects' success over the years. The team believes that they have chemistry that is lacking in other schools' ice skating programs. Being in sync with one another has allowed them to defeat teams like Robert Morris University and Princeton University in major competitions. When the team is not out on the ice practicing or performing, they are spending their weekends hanging out together and strengthening their relationships.
Oswego State is the only SUNYAC school to currently offer an ice skating program. A successful ice skating program, along with the education offered at Oswego State, lured many of the team's skaters to the campus. Members of the team have been skating for the majority of their lives, constantly skating to become better each and every day. The Ice Effects are hoping to end their year with a strong showing at Nationals.