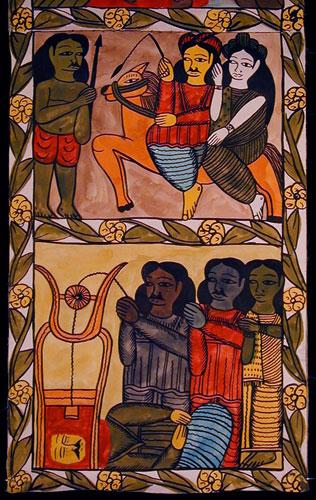 Art exhibit "Picture Scrolls from India" made its way to Oswego State on Friday, Jan. 29. Dr. Geraldine Forbes of the history department and scholar of India presented the scrolls she's collecting for 30 years.
The scrolls are Bengali narrative paintings and are made by the Chitrakars, also known as the Patuas people of India. The moment you walk into the gallery, vibrant colors, intricate pictures and fascinating stories surround you. Scrolls line the walls and tell story after story. Each scroll has a different subject matter.
One of the main points Forbes spoke about was "is this going to survive into the 21st century?" She said she hoped they will and mentioned that "people who are doing it now are most likely continuing it from their ancestors." While looking at these scrolls and listening to Forbes speak, she makes the point that since the artists who create these beautiful pictures are part of the low caste social class, this tends to be a source of income for them. During her talk, Forbes explains that there are many stories that explain why low caste people make these but most tend to be legend rather than historical.
One might think that these scrolls would only tell stories about gods and ancient myths, but they also illustrate current world problems. One of Forbes' favorite scrolls is titled "9-11 America's Burning" by Madhusudan Chitrakar which is an illustration of the artist's take on the Sept. 11, 2001 tragedy. What is interesting about this scroll is that he did not learn about the attacks from watching the news or reading about it. Madhusudan Chitraker found out because a nearby village was performing a play about it. Forbes is very fond of this artist and has always loved his work.
The Chitrakars have also been commissioned by the American Center in Calcutta to produce scrolls that spread awareness of HIV and AIDS. Another favorite of Forbes was a scroll titled "Monus Dream" by Monu Chitrakar. This is a bit lighter than the 9-11 scroll, in that it describes a dream that the artist had.
The exhibition will remain in Tyler art gallery through March seventh. Tyler art gallery is open Tuesday through Saturday from 11:30 a.m. to 3 p.m. The exhibition is sponsored by Dr. Geraldine Forbes, Oswego State's ARTSwego and Auxiliary Services.