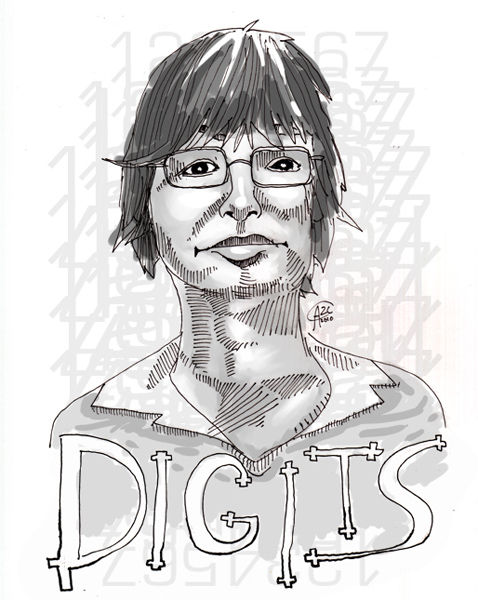 I caught up with the Toronto Native and indie/electronic musician Alt Altman a.k.a. Digits to discuss his critically acclaimed album "Hold It Close," his origins as a musician and his plans for the new year.
Q: When did you first realize that you wanted to be a musician?
A: I guess I've always wanted to be a musician, ever since I started playing guitar and piano as a kid. I just never thought it was a real possibility until I had joined some bands and gained some experience recording and playing shows.
Q: What made you settle on the name Digits?
A: I like the way it could refer to fingers as well as numbers. But it also reflects how important recent technological developments are for me to be making music. I would never be making music if it wasn't for cheap digital recording technology. And without the Internet, I would never have found out about the groups that influence me, I would never have been able to gain the knowledge I needed to produce recordings, and most importantly I wouldn't have been able to find an audience. So I like Digits, I like how it glorifies the importance of the digital to me as an indie musician.
Q: Your album "Hold it Close" is an eclectic mix of beats, melodies and moods. Musically, what elements come first? Do you write the words first and the music comes later or vice versa?
A: The words never come first. Any time I try, the music ends up bad, I can't make good music to fit pre-existing lyrics. I usually begin with a synth part, but sometimes I start with the drums and bass. I only start thinking about melodies and words once I've got at least one instrumental section of a song.
Q: Did you draw influences from any artists in particular while you were writing "Hold it Close?"
A: Junior Boys, Erlend Oye and LCD Soundsystem were my biggest influences for this record, although I definitely was drawing ideas from New Order, The Knife, Chromatics and Daft Punk as well.
Q: The songs on "Hold it Close," especially "You're Going to Age," seem to address the inescapable elements of life but with catchy melodies and beats. Why do you think it's so compelling to combine upbeat music with such heavy themes?
A: I've always been a huge fan of how Of Montreal can combine very intense, deeply personal and often gloomy lyrics with catchy indie pop and later electronic pop. I feel like this juxtaposition is just an interesting way to convey these themes – there's no reason why songs about inevitable, unchangeable things like mortality, can't also be danced to. It seemed a natural direction for me once I started songwriting. I've always wanted to see a room of people dancing to a song about how they're going to all age. LCD Soundsystem's "Someone Great" and "All My Friends" are great examples of dance songs that do it best.
To receive a free copy of "Hold it Close," send an e-mail to the band: holditclose@digitsmusic.com with "AZLTRON" as the subject header and a link to your free download will be sent to you automatically.