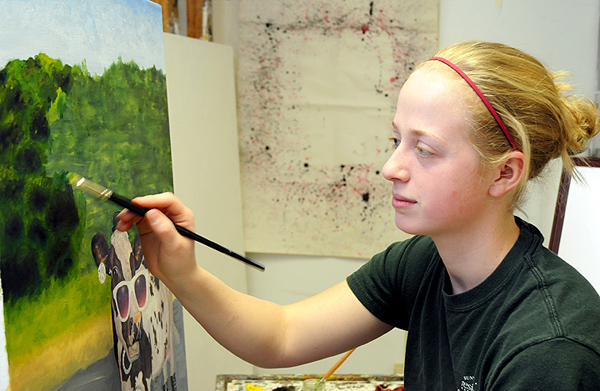 Oswego State's Art Department hosted it's 47th Annual Juried Student Art Exhibition Jan. 29 in the Tyler Hall Art Gallery. The show featured the artwork of students across all majors and every choice of media. Works included everything from ceramics and lithographs to mixed media and pieces done in graphite pencil.
Deborah Stanley, Oswego State president, stated that one of the objectives of the show was to, "open [our] minds and hearts to other ways of looking at art." Stanley placed a great deal of emphasis on Oswego State's goal of creation.
"We are creating in every sense of the word," Stanley said.
Students were encouraged to submit their favorite pieces for the show, and inspiration for the works came from everywhere. Two of the artists, Zoe Tuppen and Allison Williams submitted a joint mixed media project called "Velveteen Jackalope." This had been one of the pieces the girls worked on together for "Creature Feature," a painting competition. The girls said they were highly enthusiastic about their creation and explained that the idea came from the familiar childhood story, "The Velveteen Rabbit" by Margery Williams. However, they said their imagination led them to replace the childhood symbol of the rabbit with a jackalope, an imaginary rabbit with antlers.
Other works, however, had a much more sensitive themes behind them. Elizabeth Swenson, a graphic design major with a minor in art history and business, said she used her artwork to convey the message that every person in this world has a story that is uniquely their own. Greatly enthralled by these unique stories, Swenson's piece, Memories: Mary, depicted a female, Mary, in two separate photographs with a story printed on her hand.
Swenson explained that she had used four or five different subjects in an attempt to get the perfect shot and the perfect image. Each person, she described, is different, and Mary's story was that of being very shy. She was "so shy, in fact, that her sister had to actually speak her part in a puppet show that they put on," said Swenson. She went on to say that another model she used was "date-raped." Swenson's photographic endeavour truly helped to bring a great deal of respect and honor to her models who have gone through such difficult tribulations.
Swenson's piece received the Presidential and Student Association Purchase Award, as well as the Juror's Award for Graphic Design. Amongst the other award winners were Ben Petrie for "Gunfight at the O.K. Corral," Jamie Feckelman for "Man's Best Friend," Michelle Bennet's "Self Portrait," and Barb Morey for "The Fight for the Crown."