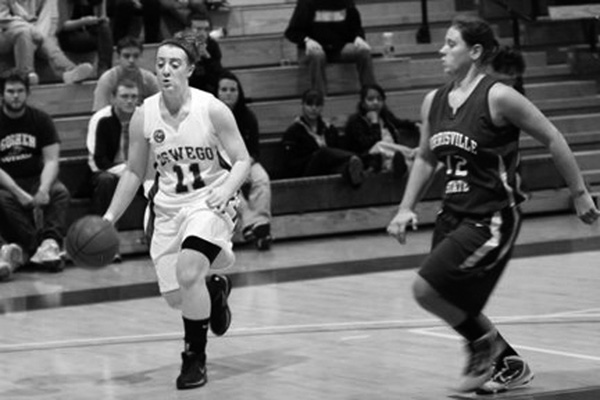 She has the will to get better at everything she does. Nothing is ever good enough, but she has fun improving. She is Rachel Kohrs, and there is no end to her passion. Her passion is basketball.
Kohrs is a senior captain for the Oswego State women's basketball team, so her current focus is on her final season as a Laker. Earlier in life, however, Kohrs had great success on the soccer field.
"A lot of people say when I was in high school that they thought I was better at soccer, but it was just too slow," Kohrs said. "With basketball, there are a lot of different skills you can keep improving and become better."
Since basketball has been at the forefront, Kohrs has always had a knack for defense. Assistant coach Erin Skaradek can see a rise in confidence when she's playing good defense.
"She's just someone who's always intense on the floor. (Kohrs) works on the defensive end to get down to the offensive end," Skaradek said. "I think when she is playing well defensively it lets her settle in offensively."
"In terms of our defensive spark, she's it," head coach Tracy Bruno said.
Kohrs isn't a statistical force. Last season, she averaged only six points and a little over three rebounds, but her 27.8 minutes per game were full of heart. She acts as the glue to the team and Bruno sees her effect on the other players.
"She is the constant positive voice. She would be the one that would refuse to talk about losing," Bruno said.
As a young girl, Kohrs approached the practice court a little differently. She would take a ball, headphones and Rollerblades to a local court. A relaxed Kohrs would then glide around the court, shooting with constant movement. She now has the mid-range jump shot to prove it.
"The mid-range game is the lost art of basketball. You either play inside or you play outside," Bruno said. "Rachel has established a very solid mid-range, pull-up jump shot game which is a huge asset to us."
Kohrs started playing organized basketball in fifth grade, even traveling to a league in Massachusetts to play bigger schools. Kohrs is a supportive teammate on and off the court. Co-captain and fellow guard Traci Bacon is a witness to her leadership and companionship.
"She is one of those players, especially with the young girls, that will step aside and tell them what to fix," Bacon said. "If someone is having a bad day, even if it doesn't affect basketball, she'll still put the effort forth to talk to them and help them out."
"It sounds so corny to say she has relationships with everyone, but I really think that's the kind of kid she is," Bruno said. "(Kohrs) is always willing to put others before her own success. You don't replace that easily."
There is no part of Kohrs' game that she is completely satisfied with. Surprisingly, she targeted ball handling and confidence as weaknesses. When she attended New Lebanon High School, she switched back and forth between point and shooting guard.
"She pushes us," Skaradek said. "She's got more confident since last year with her ball-handling so she really looks to push up the floor."
Skaradek's comments show a work ethic that is sure to impress. Ankle problems have lingered on for Kohrs since her sophomore season. She broke her ankle during the summer before her junior season while playing basketball. Being a health and wellness management major, Kohrs knew the risks of going back too early, but that didn't stop her.
"Obviously, she has that 'poor me' moment, but she always rallies very quickly," Bruno said. "We're yelling at her as coaches to sit down. She's so into the game even though she's not physically a part of it."
Kohrs fully understands that basketball isn't going to pay the bills. Her infatuation with the game will probably never die, but she is clearly realistic about her future.
"I'm not interested in going any further (after college)," Kohrs said. "When I was little that would be really nice, but there's just the reality of talent level."
Kohrs is pursuing a career in physical therapy. She is currently interning at Robert Berkley Physical Therapy in Oswego, where she shadows Berkley to learn the ropes. When she graduates, she plans to go to Onondaga Community College. Kohrs will then try to get a job as a physical therapy assistant.
For now, Kohrs is all basketball. She pulls the number 11 jersey on over her shoulders on game nights. She runs onto the floor when her name is announced. She plays with passion. She plays because she loves to.