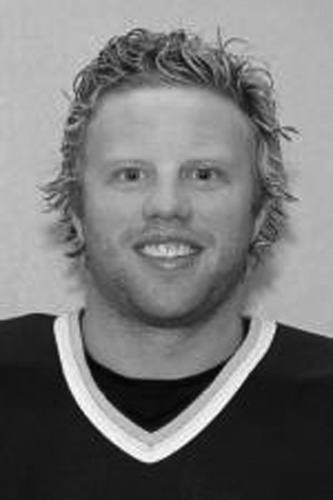 Oswego State men's ice hockey forward Justin Fox was born with hockey in his genes and has dreamed of accomplishing the feat that his father accomplished during the '70s: winning a national championship.
Since Fox was just a little boy growing up in Whitby, Ontario, he has always been playing hockey. It didn't matter if it was roller hockey in the driveway or building an ice rink in the backyard with his older brother and father, Fox has always had skates on his feet and a stick in his hand.
Fox's love for the game was greatly influenced by the success his father experienced on the ice. His father won a NCAA Division I National Championship with the Boston University Terriers in the '70s and now uses his experience from his collegiate career to help his son.
"I began playing hockey mainly due to the inspiration of my dad," Fox said. "He played Division I for Boston University and won a national championship in the '70s. I wanted to follow the same suit as him and he raised me in the hockey atmosphere and coached me. Even if you don't play hockey, you like it back [in Canada]. I got into it at an early age and luckily had someone like my dad to teach me."
Whitby served as the perfect place for Fox to learn the fundamentals and get the necessary coaching to become a successful player. With a population of 110,000 and constantly growing, Whitby has blossomed into a premiere hockey community after years of being a small hockey community, according to Fox.
During his high school career at Father Leo J. Austin, a Catholic school in Whitby, Fox played four years of Junior A hockey. Upon graduation in 2004, Fox took a few years off from school to play hockey in the Ontario Provincial Junior Hockey League (OPJHL). The OPJHL has been a program for talented players to perfect their skills before committing to play collegiately.
"It's a good stepping stone," Fox said. "It's a jump from minor hockey and it's fast paced with big guys who are older than you, which is the same as when you come to college. It gives you critical fundamentals and teaches you the right skills you need to perform well at this level."
Fox played three seasons in the OPJHL; two with the Pickering Panthers and one with the Newmarket Hurricanes. During his three seasons in the league, Fox played in 143 games, registering 72 goals and 88 assists for a total of 160 points.
With offers from a variety of college teams, including SUNY Plattsburgh, but not including Oswego State, Fox elected to play at Salem State, a college located in Salem, Mass. The reason behind choosing to play for the Vikings was the fact that the coach, Bill O'Neill, was his father's roommate at Boston University. That was the same reason why Oswego State head coach Ed Gosek decided against heavily pursing Fox, despite being intrigued by his play on the ice. Hearing from Fox's OPJHL coaches that he was leaning toward Salem State, Gosek turned his attention to other recruits whom he had a better chance of recruiting.
Fox spent two years with the Vikings, putting up gaudy numbers in each season. He was named MASCAC Rookie of the Year with 18 goals and 22 assists for 40 points in 28 games. His second and final season at Salem State, Fox was named first team All-MASCAC with 16 goals and 18 assists for 34 points in just 21 games. In his career with the Vikings, Fox compiled 34 goals and 40 assists for 74 points in 49 games.
Despite his success at Salem State, Fox was looking to transfer to a more successful program. He therefore sent letters to various schools, including Oswego State. The Lakers pursued Fox heavily and were able to get him to verbally commit to the school through their winning tradition, fine facilities and passionate fan base.
"He is a goal scorer, but what he's shown is that he has great patience and hockey sense," Gosek said. "He's been a positive addition to the team and he's what we hoped he would be from his time at Salem State."
"They have a great facility and a great fan base, which is mostly student based," Fox said. "We also have a large support from the town. The overall atmosphere was something I was definitely looking forward to. The tradition that we have here is a winning team."
Transferring with Fox was his long-time friend Kevin Huinink. Fox's relationship with Huinink, a defenseman for the Lakers, has stretched 10-15 years, dating back to their time playing junior hockey in Whitby. Oswego State was able to make room on the roster for Huinink after a recruit backed out of his verbal commitment with the school.
"We're happy to have him and he's only going to get better," Gosek said. "His conditioning is coming along and we're working on his foot speed. I think there's a big upside there and we're just scratching the surface on his capability. There's a lot more that we can get out of him."
Although happy with his decision, Fox was nervous about the transition to a new school and a new environment. Fox's nerves were put on ice by the other 13 new players who also had to acclimate to new surroundings. The team bonding early in the season helped to make the transition easy for Fox.
Fox has already noticed many differences between wearing the orange and blue of Salem State and the green and gold of Oswego State. While Salem's rivalries with Norwich University and Bowdoin University were physical and hostile, they pale in comparison with the Oswego State/Plattsburgh State rivalry, Fox said.
Also noticeably different is the fan support. The Richard H. Rockett Arena in Salem seats 2,200 people, but rarely has more than 500 people per game. The Campus Center Ice Arena seats 3,000 people and is typically sold-out each and every game.
In eight games so far this season, Fox is third on the team in scoring with 20 points on six goals and 14 assists. His strong performance has helped the Lakers to a shared number one ranking in Division III, a 6-0-0 record in the SUNYAC and an overall record of 8-1-0. Fox returns to the ice on Dec. 4 when the Lakers take on SUNY Brockport.