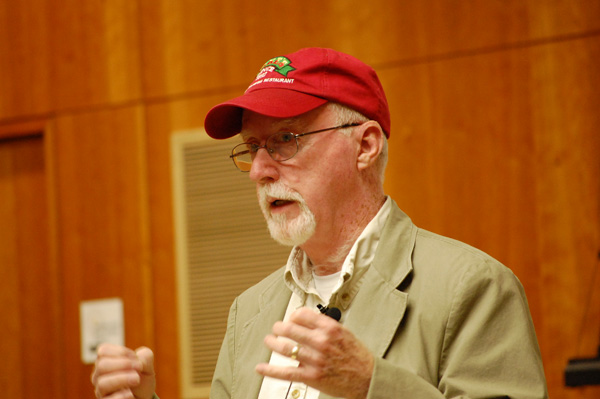 Dark comedy poet, William Trowbridge, visited the Oswego State campus on Nov. 16 to talk to students about humor in poetry and the importance it serves in writing.
Trowbridge, a slender man with gray hair, covered mostly by a red baseball cap and a gray goatee, talked about the various types of humor poems: serial comedy, light-verse and satire. Trowbridge considers himself to be a serial comedy poet, a type of comedy that he says is both intelligent and humanistic.
"Serial comedy doesn't just hit you intellectually, but also hits in the heart," Trowbridge said. "Light-verse is more witty and clever and satire is more sarcastic and attacking."
Trowbridge spent most of the class reading excerpts from his book "The Complete Book of Kong," a series of poems where the fictional beast King Kong is depicted as Trowbride's alter ego. In the book, Trowbridge humanizes King Kong by placing him into real-life situations and experiencing emotions that all humans face at some point.
His idea to use King Kong, instead of other popular monsters like Godzilla, Big Foot or the Lock Ness Monster, was based on the King Kong's human qualities, which made people sympathize with him. Initially, Trowbride began writing poems about Kong as an exercise for writers block; he never intended on the poems becoming published.
Trowbridge has written poems about more than just a giant gorilla. His work has been featured in The Gettysburg Review, The Missouri Review, The Georgia Review and many others. Trowbridge has had four other books of poetry published prior to "The Complete Book of Kong." "Flickers," "The Four Seasons," "O Paradise" and "Enter Dark Stranger" were published between 1989 and 2001.
Trowbridge says that it is therapeutic to have an alter ego when writing about issues in society. When he writes his poetry, he attempts to pull the reader in polar directions of comedy and seriousness, creating a powerful tension.
"The function of humor is a type of weapon that can be protection from the horrors of our lives," Trowbridge said.
During his lecture, Trowbridge noted that comical poetry and jokes have many similarities, including structure, message, the element of surprise and physical and emotional pain. He believes that serial comedic poetry has the ability to aid in the healing process when an individual has endured a personal tragedy.
Trowbridge has many awards to his name, including an Academy of American Poets Prize, a Bread Loaf Writers' Conference scholarship, and fellowships from The MacDowell Colony, Ragdale, Yaddo and the Anderson Center.
In Omaha, Mo. Trowbridge works as an assistant editor of The Laurel Review, a top literary journal in the Midwest and teaches at Northwest Missouri State in Maryville , Mo.